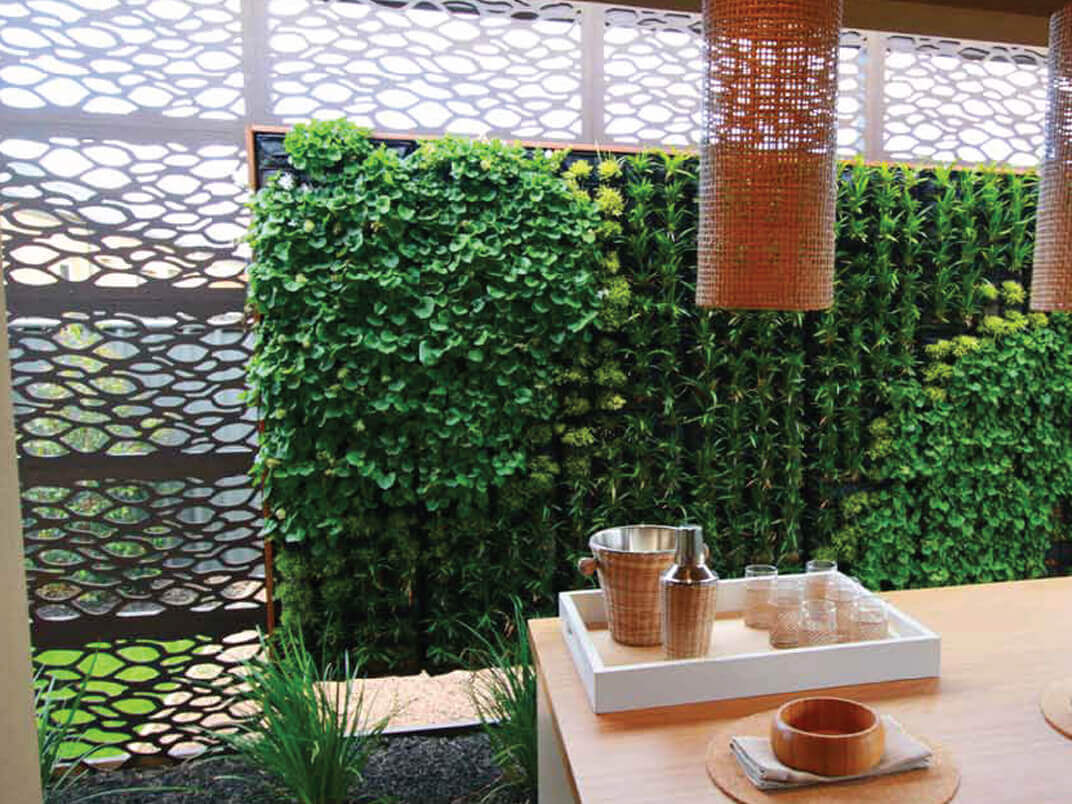 You know that slab of concrete in your back yard? The one that just sits there, looking bare and almost begging to be torn up? One of these days, you swear, you'll get around to renting that jackhammer and tearing the whole thing up. Is that what you're thinking? If so, you're looking at it all wrong.
That ugly slab is actually a perfect foundation to create your dream patio. It's an open canvas with virtually endless possibilities. The best part – it's easy. There is little to no construction involved. With a myriad of "plug and play" options available, you can put together a fantastic space for entertaining and relaxing in just a few short hours.
You can put virtually anything on your concrete slab. The slab is your oyster. But if you're looking for some inspiration, the following options are guaranteed to make your new patio a beautiful, functional and livable space.
Patio Furniture
Turning a slab into a true patio can be as easy as simply adding furniture. From picnic benches to rocking chairs to Adirondacks, there are plenty of options for functionality and style. If you're looking for a "natural" style of furniture that blends the beauty of the outdoors with your space, beautiful Redwood and Cedar furniture offer durability, quality and beauty. Easy to assemble, these pieces give your patio a rustic feel.
If you're looking for a maintenance-free option, composite material furniture is for you. Trex, a leader in composite decking, offers a variety of furniture collections varying in style to fit any taste – all of which come with a 20-year warranty.
Patio Heaters
Southern California is famous for its perfect weather with annual temperatures hovering in the 70s and an endless stream of sunny days. But it's not all shorts and flip flops. Many nights tend to feel a bit chilly. A portable, free-standing patio heater allows you to enjoy your patio long after summer and sundown. With a patio heater, you'll have a year-round space to entertain, relax and enjoy the great outdoors.
Fire Pits
Turn your patio into a gathering spot and backyard campsite with an outdoor fire pit. Roast marshmallows, tell ghost stories or simply relax and listen to the crackles and pops of burning logs. With multiple options – from outdoor fireplaces to portable fire pits – you can find the right option and style for your needs and tastes. You can even turn your fire pit into a BBQ with flip-over grates. Available in easy-to-build kits, you can install a fire pit that will last for years in a single afternoon.
Barbeques
There's nothing quite like the taste of grilled meats and vegetables, and nothing brings together friends and family like a good old-fashioned cookout. J&W Lumber has a large selection of barbeque grills from leading manufacturers, including PGS and AEI, that offer durability, style and unmatched cooking prowess. These grills, which are commonly used in golf clubs, apartment complexes and the country's finest restaurants, are built to last – and only available through specialty dealers.
Concrete Countertops
To add a more permanent touch to your patio, you may want to consider a concrete countertop. Whether you use the countertop as a standalone structure, or as a part of an outdoor kitchen around your barbeque grill, a countertop will help turn your patio into a true outdoor living space.
If you're not familiar with building concrete structures, it's probably best to hire a professional. For those who prefer to build their own custom countertop, there are plenty of DIY concrete countertop products, including the QUIKRETE Countertop mix.
Privacy Panels
There's a good chance that your patio is a bit "exposed" when it comes to privacy. Privacy panels can help you create a personal oasis in an otherwise populated area – and make it look great.
Manufacturers like OUTDECO offer a variety of interesting styles that are easy to assemble, easy to upkeep and easy to customize. The panels are made with Weathertex, a durable and sustainable material with a hardwood exterior that will give your patio a truly natural feel.
Eco-Style Screens
Like privacy panels, modular screens offer your patio, your pool or even an indoor room in your home a measure of privacy and beauty. Functional, elegant and modern, these "eco-style" screens add a touch of style and class to any personalized space – especially your patio.
Constructed from a hybrid mixture of rice husks, rock salt and mineral oil known as Resysta,these panels are fully waterproof. Since the panels are modular, the options for design are nearly endless, allowing you to fully customize them to your personal preference.
That gray concrete slab wasn't meant to sit there collecting dirt and dust. It's ready for you to create a personal, functional living and entertaining space for you and your family.
If you're looking for more inspiration or ideas, visit our project gallery or visit one of our stores!