Simpson Strong-Tie
Simpson Z-max Connectors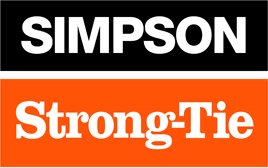 There are more than a million decks built or replaced every year. This number is contributing to a growing amount of decks failing and has the building industry concerned about proper installation. Ensuring that your deck is properly built with the right connectors will create a structure that will last. All of our stocked connectors are Z-max or hot dipped galvanized to prevent corrosion when used outdoors.
J&W Lumber stocks all of the wood construction connectors to complete a safe and lasting deck, patio cover, or fence install. Together with Simpson Strong-Tie we have the solutions to all of these common connections and more: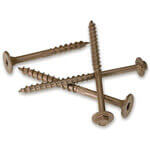 Ledger Attachment
The connection where the deck or patio cover connects to the house is called a ledger. The ledger is the most common point of failure on the structure. It is critical to attach the ledger to the house with lag screws (SDS) or by using through bolts. Never attach a ledger with nails or screws.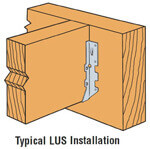 Joist-to-Ledger
Hangers should be used to attach every joist to the ledger. We offer hangers that can accommodate any angle/ joist size to ensure solid connections. We recommend using Simpson's SD screws for fastening hangers to the lumber.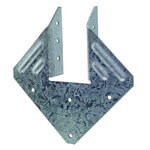 Joist-to-Beam
Using a joist to beam connector can minimize movement of the structure and ensure a solid connection vs. simply toe nailing or toe screwing. This is a critical, but often neglected, connection.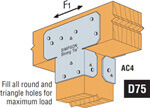 Beam-to-Post
This connector ensures that the main beam(s) on your structure will not fall off the posts holding it up. We offer several different options that can fit any application.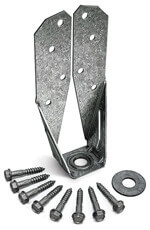 Railing Post-to-Deck Framing
Weak or wobbly railings are the most common cause of injury on a poorly built deck. Railings need to be properly attached to the perimeter of a deck but this connector also attaches the railing to the floor joist under the deck.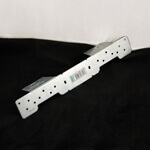 Stair Stringer-to-Deck Framing
This connector ensures proper attachment of the stair stringers to the deck.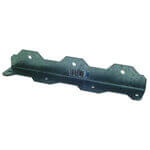 Stair Tread-to-Stringer
Using this connector will ensure stair treads are properly and securely attached to the stair stringer, keeping the tread from wobbling when walked on.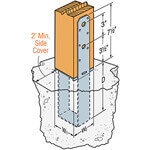 Post-to-Concrete
Post bases connect posts to a concrete slab or footing. We offer several types of post bases that can fit every application, code requirement, and aesthetics.