Deck Fasteners
Deck Fastening Solutions
J&W Lumber offers the right choices of deck fasteners to complete your outdoor projects.
Composite Decking Solutions
Trex Universal Fastener
The major fastener component that attaches two boards together is the self-gapping Trex Universal Fastener. Featuring a stainless steel deck screw which is already set in the fastener, installation is easy and durable. It comes available in versions for both Trex Elevations® steel framing or for wood framing.
1 box covers 50 sq. ft.
1 bucket covers 500 sq. ft.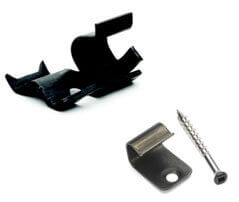 The Start Clip & Connector Clip
Designed exclusively for Trex, these black, stainless steel fasteners are used to install perimeter deck boards.
Start Clip: 1 bag covers 48 lnft.
Connector Clip: 1 box covers 50 sq. ft.
1 bucket covers 500 sq. ft.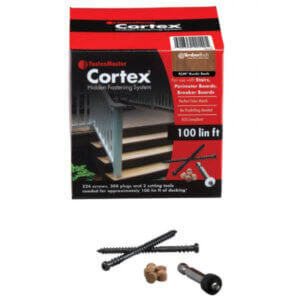 Cortex Hidden Fastening System
We stock Cortex for every color of Trex and it is the fastest, easiest way to hide the heads of your fasteners on your new deck. When a Hideaway clip won't work, the 100 LnFt box is perfect to complete those areas such as perimeter or stairs.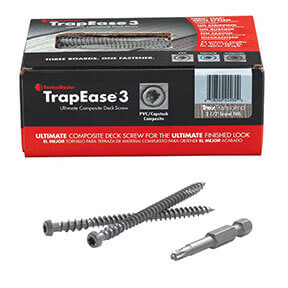 TrapEase 3 Ultimate Composite Deck Screw
The only deck fastener guaranteed to render a polished, clean look without predrilling is the FastenMaster TrapEase 3. This fastener works in all three kinds of synthetic decking:  PVC, capstock and composite. J&W Lumber stocks all the matching Trex colors everyday! Also available for Timertech and Fiberon decking.
Coverage available in 100 sq. ft and 350 sq. ft boxes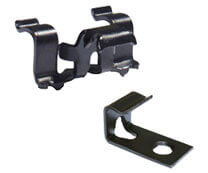 Fiberon PhantomGT Hidden Fastener
Providing a smooth, clean, hardware-free look,  PhantomGT Hidden Fasteners and PhantomEC End Clips are designed for Fiberon Horizon, Protect Advantage, and Good Life deck boards.
Hardwood Decking Solutions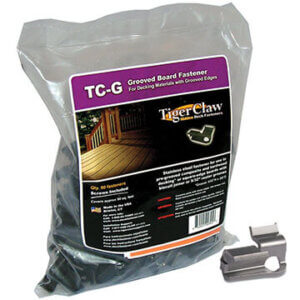 TigerClaw TC-G Grooved Board Hidden Fastener
A clip system specifically designed to work in 5/4" or greater x 4" or 6" decking that is pre-grooved or grooved with the TC-150 slot cutter, the Tiger Claw TC-G clip system is the perfect solution to your deck connection needs. Made of 304 grade stainless steel and saltwater application-approved, this product is designed for long-term performance, even on ACQ or chemically treated lumber. The clip is designed with embedded sharp prongs for superior holding power, ensuring a long lasting, quality connection between your deck board and joist.
PRO PLUG® SYSTEM for WOOD
The PRO PLUG® SYSTEM is an integrated plug system for wood decking and flooring. It's of superior quality and also easy to install (bits sold separately).
Coverage available in 100 and 300 sq ft boxes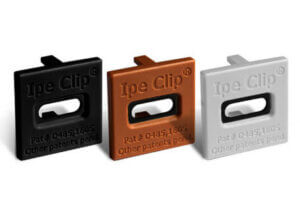 DeckWise Hidden Deck Fasteners
Stainless steel reinforced, DeckWise®Hidden Deck Fasteners have been designed and tested to be up to 3x stronger than other hidden fastener systems. Providing quick and easy installation, this unique patented design provides a fastener-free, clean surface to please both expert contractors and homeowners alike.
Softwood Decking Solutions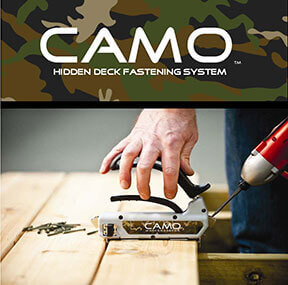 CAMO Hidden Fastening System
CAMO deck screws and CAMO Marksman tool (sold separately) combine to provide the CAMO Hidden Deck Fastening System which gives your new deck a fastener-free surface. The System works on any treated lumber, cedar, hardwood, or PVC deck board and provides a custom look for Redwood and Cedar decks. Available coverage in 100, 200 and 500 square foot boxes.
Coverage available in 100, 200, and 500 sq ft boxes.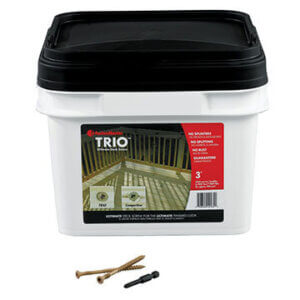 TRIO Ultimate Deck Screw
Specifically designed to outperform conventional deck screws, the TRIO Ultimate Deck Screw excels in softwood decking such as cedar, redwood and pressure treated.  TRIO provides the ULTIMATE in strip-out resistance, anti-splitting resistance, and corrosion resistance.
Coverage available in 20, 100, and 300 sq ft boxes.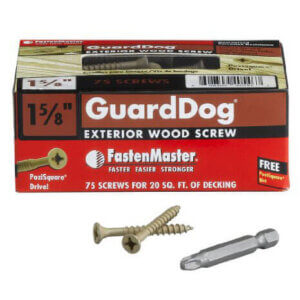 GuardDog Exterior Wood Screw
Fully tested and guaranteed in Cedar, Redwood, Pressure Treated,and ACQ, GuardDog is our best selling, most-preferred wood screw for a variety of applications. The PoziSquare™ Drive eliminates the strip out of a fastener.
Coverage available in 100 and 500 sq ft boxes.
---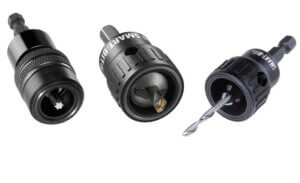 Don't Forget:
SmartBits
SmartBits Deck Screw Depth Setter sets your screws to the exact same depth every time, and it's adjustable. This unique tool will make installation so much easier and more consistent.
SmartBit for Decks and Woodworking allows you to pre-drill and countersink in one easy step with just one tool!