Raised Garden Beds/Boxes
Garden Box Kits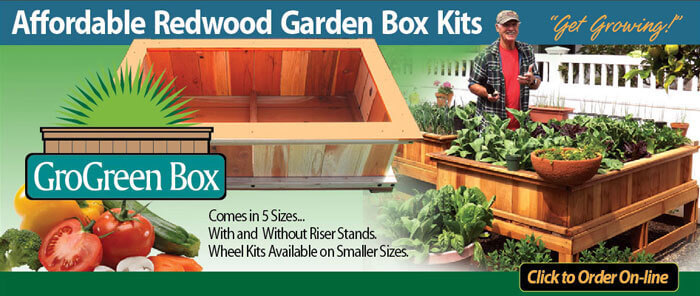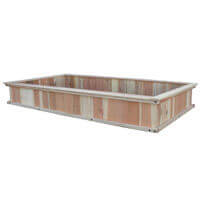 GroGreen Garden Box Kit
The GroGreen Garden Box from J&W Lumber is the perfect raised garden bed for starting your own vegetable garden. Our well designed, 100% redwood garden box will not only last for years, but looks terrific in any yard or patio. Our GroGreen Garden Box kit is 12″ tall and available in 2'x4′, 2'x6′, 4'x4′, 4'x6′ and 4'x8′. All sizes are available for immediate pick up on a store, delivery or online orders.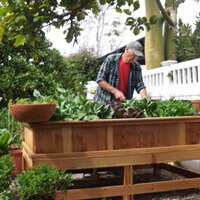 GroGreen Garden Box with optional Leg Kit
Take your garden to new heights (and saving your back in the process) is why the GroGreen Garden Box kit with Legs was designed. Keep out the garden pests with this raised garden box option and enjoy growing your own flowers or vegetables like never before. Adding a leg kit to our box will bring the box height to 30″.
In-Stock Everyday!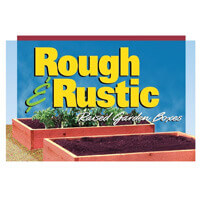 Rustic Garden Box
Our Rough and Rustic Garden Boxes are constructed with 2×12 Rough Heart Redwood and securely joined at the corners by redwood 4×4's, giving the box superior strength and longevity. We include all the hardware to assemble and also include wire mesh for under the soil to keep gophers out. The rustic box can be made any size and can be assembled in a matter of minutes. See store for details.
Garden Box Accessories
J&W Lumber also has what you need to help you complete a successful garden.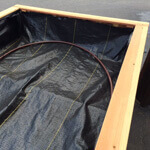 Weed Fabric
The original DeWitt Weed-Barrier® 20 Year is the best in the industry. This Fabric can be used to line the GrowGreen Garden Box to protect the box and allow for water drainage. Sold by the foot so you only pay for what you need!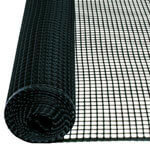 Hardware Cloth
This vinyl coated welded steel barrier will help keep gophers from burrowing into your plants. It can also double as a great looking fence for around your box and keeps other pest out as well. We cut this by the foot so there will be no waste.