Modern Horizontal Fencing
Modern and Destined To Be a Classic Look
Horizontal fencing has become a popular trend due to the modern look and feel it can give your outdoor space. Rather than the visual lines terminating into the ground like traditional vertical fencing, horizontal fencing draws the eyes across the length of the yard, helping your space appear larger and longer. Plus, there are a number of design ideas to make it feel completely your own.
Benefits of Horizontal Fencing
Horizontal fencing is relatively easy to install and adds instant value to your home. When you want a refresh for your yard, here are a few of the benefits horizontal fencing brings.
Curb Appeal – The modern look of horizontal fencing instantly adds to the overall value. Homeowners can get creative with construction by choosing different colors and features to change previously unused space into a welcoming front.
Outdoor Entertainment  – Horizontal fencing sets up parameters that can designate key areas for backyard entertaining. It ties elements together, such as a BBQ grill, outdoor furniture, and fire pit, into one central area for enjoyable entertaining and relaxation.
Decorative Coverage – Stylish as it is practical, horizontal fencing can be used to hide common eyesores in the yard, such as pool equipment, an A/C unit, or garbage cans. Instantly make your yard feel less cluttered by streamlining and sheltering any backyard "extras" with a horizontal fencing area.
Horizontal Fencing Design Ideas
Liven up your outdoor space even further by choosing from a variety of design ideas. Create a backyard with the look and feel that makes you feel most at home.
Mix and Match Sizes
With horizontal fencing, you don't have to use uniformly sized boards. You can alternate between wide and narrow boards to create a unique pattern. Custom milling is available through J&W Lumber to get the sizes you need for your next project.
You can also use various species of boards to create contrasting color schemes for a contemporary look. And, using tongue-in-groove boards enhances backyard privacy, while keeping space between boards focuses more on the design aspect of your fencing project.
Vibrant Colors
Vibrant fencing colors have increased in popularity to serve as a striking contrast to solid black posts. Also, many choose horizontal fencing accessories, such as a garden box or gate, for an inviting appeal. Play around with layouts to finalize the chosen outdoor aesthetic for your home.
Horizontal fencing gives you plenty of ways to spruce up your outdoor space. Stop by your local J&W Lumber store to see the variety of options we have in stock.
Types of Horizontal Fencing
Both hardwood and softwood fence materials have their own unique characteristics. When choosing what wood type best fits your home's outdoor aesthetic, keep in mind either can be elevated by choosing from several style options.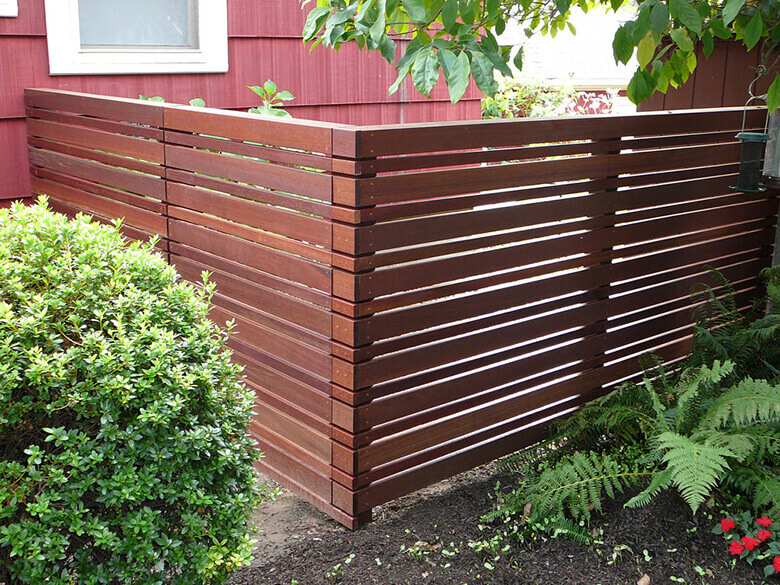 Hardwood Fence: Ipe, Mangaris, or Borneo Mahogany
Adding elegance and prestige to your fence project using hardwoods is an excellent choice. The stable and long-lasting properties of these materials will create a beautiful fence that will enhance any yard.
Available in 1×6 with custom sizes milled to order.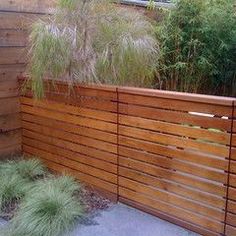 Softwood Fence: Western Red Cedar and Redwood Horizontal Fence
Fence designed for the "modern" look. Using Western Red Cedar or Redwood boards in either a surfaced or rough texture allows you to add style to your fence. Western Red Cedar and Redwood are some of the most stable boards available for fencing, allowing you to enjoy the beauty of the fence for years to come.
Available in: Rough or Surfaced 1×4, 1×6, 1×8 or 1×12 with custom sizes available through our in-store mill.