Redwood Lumber
Redwood Lumber for over 60 years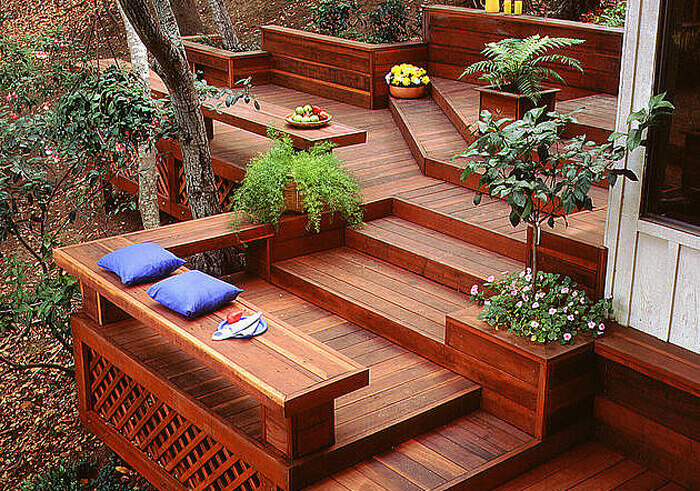 Everyone loves the benefits of redwood, making it an ideal material to use for any outdoor home project. As a classic choice for Southern California, it maintains a long-lasting, vibrant appearance. The rich, natural color creates a warm and inviting look and can instantly transform a backyard into a more welcoming space.
Why Redwood Lumber?
In addition to its natural beauty, many homeowners value redwood for its environmentally friendly appeal. It's a renewable resource that lasts a long time in the outdoor elements, which helps keep outdoor structures well preserved.
Some dimensions of redwood also meet many of the fire code standards in California, including in the Wild Urban Interface (WUI) areas. These sustainability and compliance factors alone make it a favorable option when choosing lumber for your next project.
Along with these benefits, one of the best features of redwood is its versatility. It can be used in a number of ways to create more livable space and enhance a home's overall value.
What Redwood Can Be Used For
When using redwood lumber, there is no shortage of design ideas. Whether using it for a single structure or combining a few to create a tailored backyard look, plans can include but aren't limited to:
Decks
Patio covers and pergolas
Horizontal and/or vertical fencing
Garden boxes
Trellises
Picnic tables, benches, or outdoor furniture
Storage cover
Siding and trim (tongue and groove, shiplap, board and batten)
Lattice
No matter the configuration, redwood is a beautiful way to expand the outdoor area to create a space for entertainment and relaxation. In addition to its versatility, there are also over 30 different grades to consider when using this type of lumber, making it adaptable to suit any style.
Redwood Grades and Uses
Redwood is widely known for its rustic appeal, but it can also fulfill a modern aesthetic, depending on the desired project design.
It's important to note 2X6 redwood is intended for use when one face and one edge is exposed. You'll talk like a pro knowing each redwood board is graded on the best face and edge, and all four sides of the board may not have the same grade characteristics.
The three grades of 2X6 surfaced redwood boards in stock every day at J&W are:
2X6 Surfaced Construction Common: Great for decking with a mixture of both red heartwood and sapwood with knots and other minor imperfections.
2X6 Surfaced Select Construction Common: Great for decking, mixture of both red heartwood and sapwood with knots and other minor imperfections. The same grade parameters as Construction Common, just the better-selected boards.
2X6 Surfaced B Grade: Great for decking or other fine outdoor projects. May contain both heartwood and sapwood and is graded to have fewer knots and fewer defects than other grades.
We also stock several dimensions of both surfaced and rough redwood in variety of grades, from 1X1 up to large redwood timbers. There are also architectural grade designations for exterior and interior use, such as Clear All Heart, which is typically used for siding, paneling, and trim. Then, there are garden grades, like Rough Construction Common/Rough Merch, which are mostly used for fencing, pergolas, or garden structures.
Homeowners can also choose between surfaced and saw-textured redwood lumber. And there are various patterns to choose from as well, such as tongue and groove, board and batten, and thick-butt bevel. These layers of customization add to the overall appeal redwood provides.
How to Maintain Redwood
Compared to other timber, redwood is relatively easy to clean and maintain. To remove loose dirt and debris, a medium-pressure garden hose can be used to rinse off decking, railing, and other outdoor structures. It's also highly recommended to use a deck stain to preserve the quality and integrity of the wood.
Wood stains protect against mildew as well as fading from the sun without requiring sanding or stripping when reapplying. Additionally, there are several wood stain colors to choose from which can completely change the aesthetic of your home or simply revitalize your outdoor decor.
What's in Stock at J&W Lumber?
J&W Lumber stocks redwood decking, siding, fence boards, and lumber for all backyard projects. This includes multiple board sizes with custom milling available for specialized orders. Redwood types found in stores include:
Rough Construction Common
Rough Construction Heart
Rough Merchantable Grade
Surfaced Construction Common
Surfaced Selected Construction Common
Surfaced B-Grade
Our stores also carry several grades in Kiln Dried, Air Seasoned, or green. Furthermore, our stores can source specialty redwood grades for the high-end project, such as clear all-heart or large timbers.
Stop by your local J&W Lumber store and let one of our specialists help you find what you need. As Southern California's redwood specialist for over 60 years, we keep redwood lumber fully in stock daily so you can get started on your next project.