Contact Our Jobsite Sales Rep About Volume Pricing Building Supplies
Dedicated Account Managers That Come to You
If you're working on a large job (for a municipality, home developer, HOA, or similar) contact our outside sales department today! We will meet you at your job site!
We'll bid on your job and work with our vendors to help keep your job on schedule and within budget.
Meet Our Outside Sales Team:
Charmaine Jennings V.P. Outside Sales
Charmaine grew up in the lumber industry. With over 40 years experience in outdoor building supplies her knowledge goes beyond a simple redwood deck board. She is instrumental in finding new alternative products that can ensure your project is up to the current building codes. "If we don't have it I will get it" is her motto. If you need in-stock or specialty products she is here to help.
Phone: 760-625-0069
Email: charmaine@jwlumber.com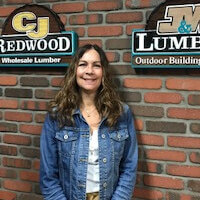 Gina Remus  Outside Sales
Gina has worked in the building materials industry for over 30 years. With her years of knowledge and as an outside salesperson on the J&W Wholesale team Gina can partner with all types of construction companies, including deck builders, multi-family contractors, residential builders, siding contractors, and more.  She works hard to get the best pricing and products for any size  project.Gina knows that the success of any project not only depends on pricing, but quality material and service as well
Gina is originally from Minnesota and recently relocated to San Diego where she is loving this SoCal weather! In her free time Gina enjoys gardening, watercolor painting, photography, biking and anything outdoors!
Give Gina a call so she can demonstrate the superior level of service she's known for, and the quality products that put J&W Wholesale above the competition.
Phone: 760-644-4924
Email: ginar@jwlumber.com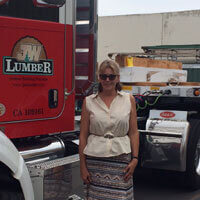 Cara Bulkley (Inside Sales Rep)
Cara has been in the lumber business for over 30 years. She has worked for J&W Lumber in inventory control and logistics for 14 of those years so she really knows the products. As an inside sales representative, Cara has the experience to make sure your order is correct and on the job at the right time. She is an instrumental assistant to our Outside Sales team.
Phone: 760-747-5312
Email: carab@jwlumber.com