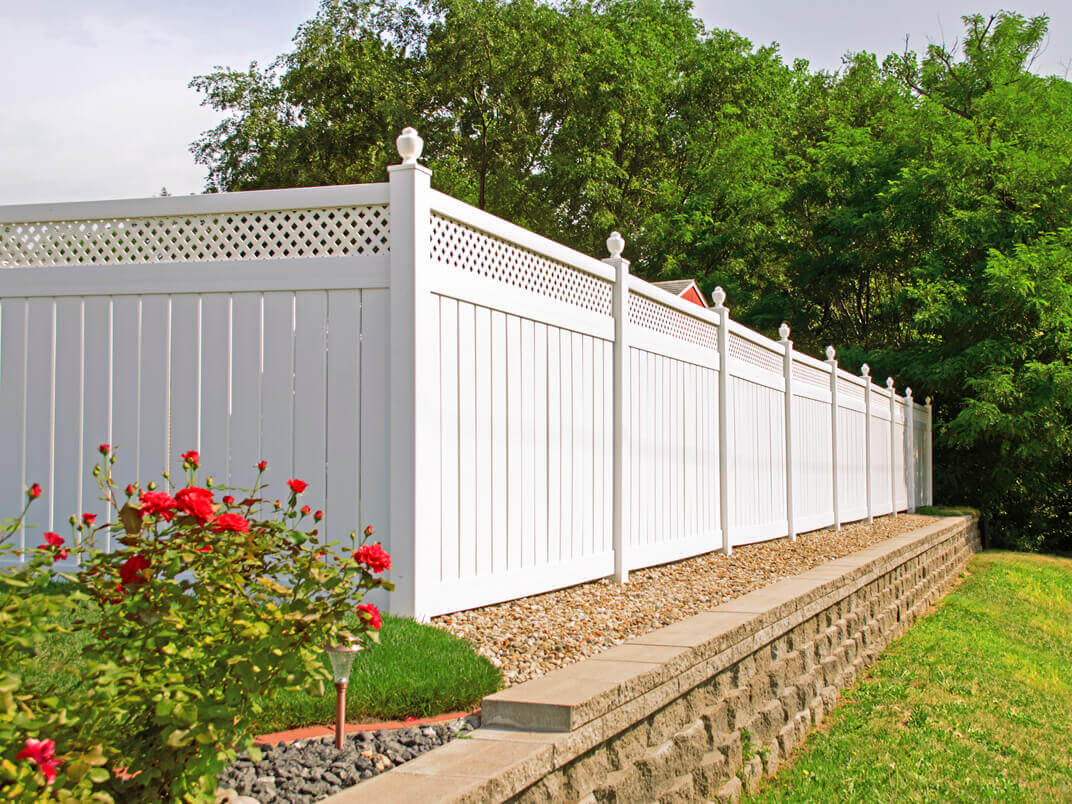 On The Fence
As you sit on your back porch looking at your vegetable garden, you realize that once again, it has been ravaged by intruders. Rabbits? Chipmunks? A Chupacabra, perhaps? No matter, the damage is done. You then notice that your dog has decided to roam the neighborhood without permission. Yup, it's time for a fence.
You've been putting it off for far too long. You know you need a fence, but what type of fence do you need? There are plenty of options, from simple to specialty. It all depends on your personal preferences – and functional needs.
The Basics
If your needs are simple, a simple fence will do. An easy and classic fence is the post and rail fence, which will mark your property and give it a "frontier" look. A post and rail fence may not deter critters or horse thieves, but it will provide an unobstructed view, giving you your own slice of the American West.
If you need a more, "functional" fence that keeps critters out and dogs and kids in, a basic vertical board fence is cost-effective, efficient and provides unmatched privacy. It's also easy on the eyes – available in Redwood and Western Red Cedar. A basic wood slat fence is easy to construct and easy to upkeep.
Weather and Wear-Proof
Love a good home improvement project but hate all that pesky ongoing maintenance? Vinyl fencing is for you. Though vinyl is typically more expensive than wood fencing, it requires almost zero maintenance. Wood expands and contracts, is susceptible to weather and dirt, and can require yearly maintenance. Vinyl fencing, on the other hand, requires the use of a garden hose. That's about it. For those who live in extraordinarily sunny areas, or by the coast where salt water permeates the air, vinyl will stand the test of time against the elements. Many vinyl fence manufactures – including Duramax – offer lifetime warranties. Vinyl fencing will not attract termites, warp, weather, discolor, fade, stain or rot. Your vinyl fence will never require painting, staining or treating, and it will look as good years from now as it does on the day you install it.
Vinyl fencing is becoming increasingly popular, for good reason. In addition to being weatherproof, maintenance-free and easy to install, vinyl fences offer a wide variety of styles and shapes to match any preference – and any home. A solid privacy fence, with vertical boards, is both functional and beautiful – and for a little extra sizzle, you can add a lattice top or some custom posts.
For those who desire privacy, but still want to let some light into your yard, a semi-private vinyl fence will do the trick. Semi-private fences make a great backdrop for the landscaped elements of your yard, whether it's a line of palms or a flower bed.
Not everyone likes the "look" of white vinyl fencing. But fear not – there are options that mimic the look, and even feel of wood fencing. Duramax offers "DuraGrain" fencing, which brings the beauty and feel of traditional wood, without the termites and the maintenance. It's available in three colors – adobe, tan, and white – to match the style of your home and your personal preferences. For an even closer-to-wood feel, DuraGrain Woods combine specially formulated polyvinyl with a proprietary graining technology to create a vinyl fence with the texture of wood. They are offered in three colors that mimic actual wood fences – weather, cedar and rustic.
Vinyl fencing offers just about any shape and style your heart desires, and the peace of mind that your fence will never deteriorate from the elements.
Get Fancy
While many people go into the fence-building process without much of a clue as to what they actually want, some have a preexisting, grand vision of exactly how they want their fence to look.
If you want a more modern look, horizontal board fencing is a great choice. Depending on your needs, you can construct horizontal slats with small gaps (for privacy) or larger gaps (for a view, sunlight and air flow). Horizontal fencing has an unmistakable feeling of modern class and is quickly becoming a popular option for the most expensive homes in Southern California.
Perhaps you have something more unique in mind. Something that combines various design elements, from slats to lattice to a custom gate. There are few limits when it comes to fencing. But it all starts with your materials. For custom projects, you'll want to choose wood. Softwoods, like Cedar and Redwood are always a good bet. But if you want something truly unique, hardwoods, like Mangaris and Brazilian Ipe provide uncommon elegance and prestige. These woods are more expensive, but also more stable and long lasting than traditional softwoods. J&W Lumber can custom mill any of these woods to meet your specifications.
If you have a picture in your mind of what you want but are not a certified fencing designer, stop by your J&W Lumber showroom to speak with a fencing consultant. We'll help you put together a detailed blueprint and get you started on your new fence!