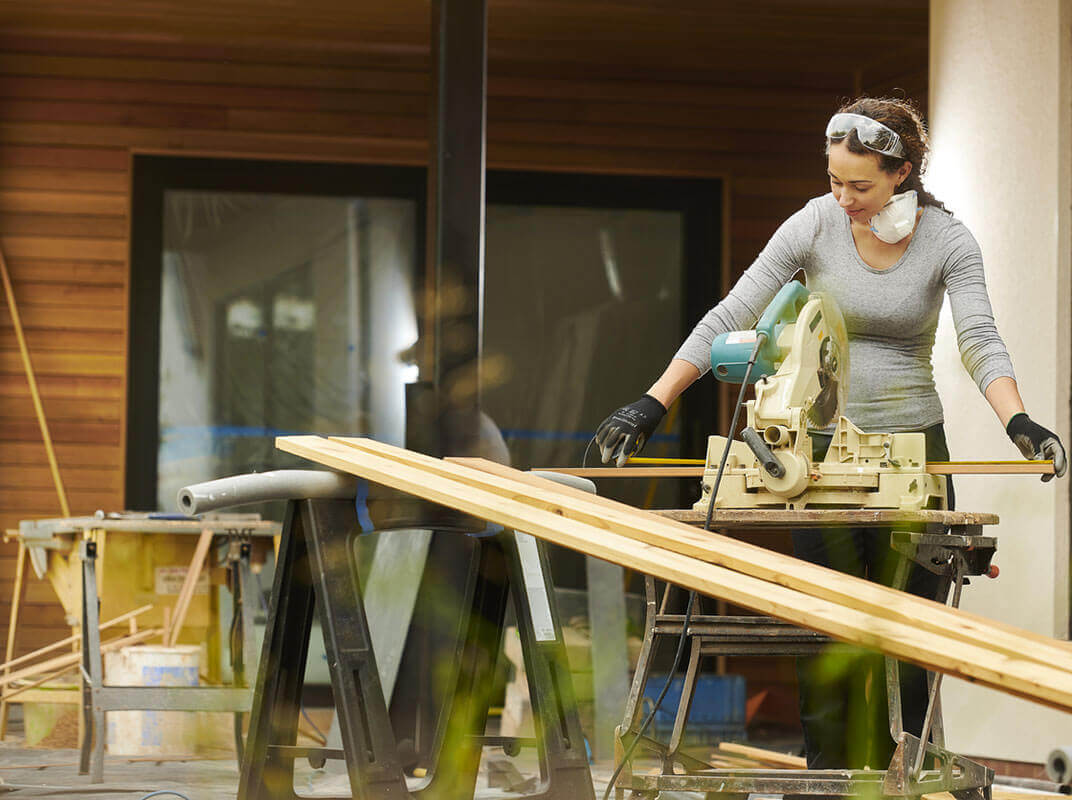 The right wood selection can make or break your lumber project. There are factors beyond price, availability, and look that will influence the long-term success of your construction. One of the most important is understanding the difference between outdoor and indoor lumber and building products. Knowing what you need allows you to make educated decisions that will help you to build a project that looks great and stands the test of time.
Understanding the terminology
Wood in lumber stores is often categorized by its technical terms: appearance grade, structural grade, and factory grade.
Think of structural grade wood as "lumber that will ultimately be wrapped in something else." This lumber provides structural support and might not ultimately be visible. Grading is determined by its strength and durability, not how attractive it is or how well it stands up to the elements. Because this wood will be surrounded by other protective materials, its appearance and performance outdoors are less important.
Appearance grade lumber is lumber that is intended to be seen. Though this lumber is graded on strength and durability, its look is just as important. Grading for appearance grade lumber takes into account knots and dings, since these factor into the overall aesthetic of the wood. Some of the most common examples of appearance grade wood are redwood, cedar and rough Douglas fir.
Read more: Choosing the Best Lumber for Your Garden Box.
The last types of woods that you might see in lumber stores are factory and shop grade wood. These woods are often sold in smaller lengths and are used primarily in windows and doors. Because this lumber is used in beveled design works, it is imperative that its composition be free of knots. Grading depends on clarity and lack of blemishes.
One quick note: the same tree can produce all three types of wood, depending on the quality of the log, the area from which the lumber is cut, and the direction of the timber cut. At J&W Lumber, we carry a wide variety of both structural grade and appearance grade lumber.
Indoor vs. outdoor hardware
Since structural lumber is ultimately buried deep within the protective walls of a building, the type of hardware used is different than outdoor applications.
Simpson Strong-Tie is the leader in both indoor and outdoor hardware. Their Z-Max line includes zinc-coated hardware with hot galvanized tips. These products have been specifically rated for outdoor use, for contact with pressure treated lumber, and have been carefully designed to maintain their integrity under the sun, rain, and salt air.
Keep in mind that lumber stores may carry indoor rated hardware, outdoor rated hardware, or both. Big box stores often carry both, while at J&W Lumber, we carry primarily outdoor. Though you might find an identical looking piece of hardware rated for different uses, be sure to read the product details closely before purchase. Using indoor-rated hardware for an outdoor application can cause an unsafe situation: if interior hardware comes into contact with pressure treated lumber, it can prematurely corrode. This is usually what is happening when you see the screws or nails on fences that seem to "bleed" over time. It's likely that someone grabbed the nearest box of screws, using indoor rated hardware outside where it has difficulty withstanding the elements.
A final note on finishing woods
Beautiful soft woods like hemlock and surfaced Douglas fir come in thin panels that tend to corrode and age quickly, so they're not graded for outdoor use. We never recommend using these woods outside—doing so will quickly lead to disappointment, because they can't stand up to pests or fluctuations in temperature and moisture. However, these soft woods contain less wood-discoloring tannins, so they're excellent for indoor applications like interior siding or cabinetry.
Since lumber is the foundation of any construction project, the type and grade of wood you select is your first important decision. Now that you have a better understanding of indoor and outdoor woods (and their accompanying accessories and hardware), you can select the option that will look the best and last the longest.
Starting to plan your own indoor or outdoor construction project? Talk with the lumber specialists at your local J&W Lumber to get ideas and advice.