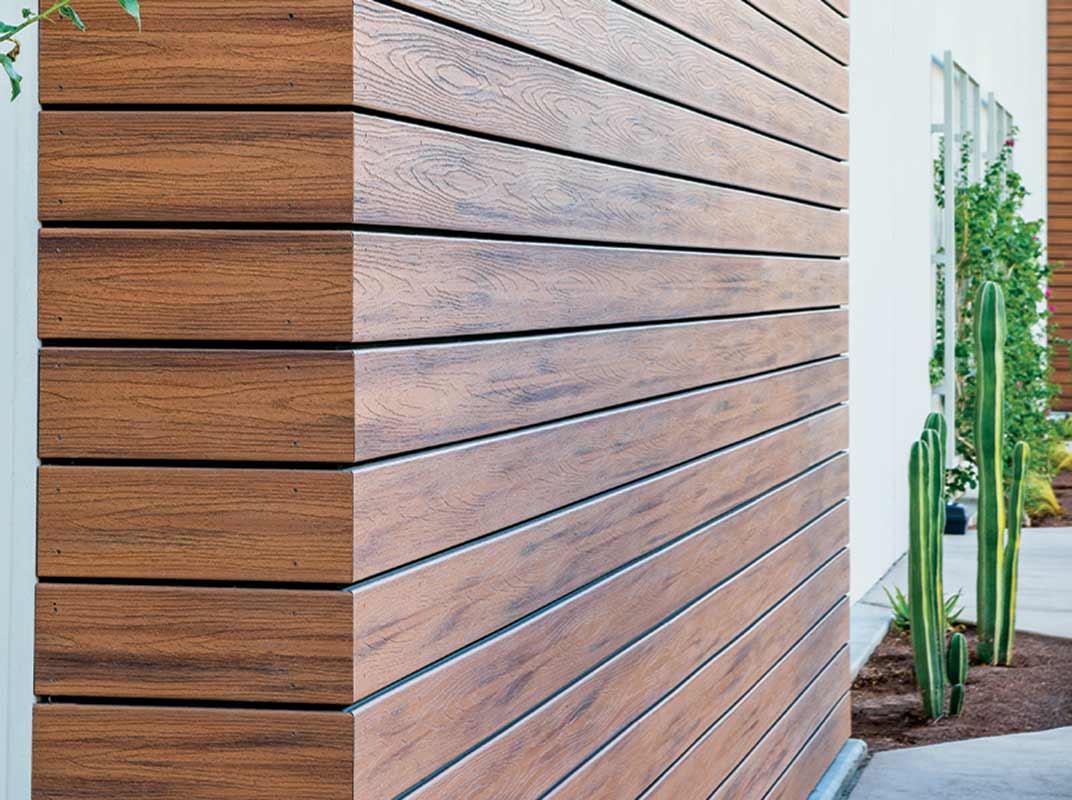 When most people hear the phrase "house siding," they think of overlapping wood planks, a frequent sight in nearly every region of the country except Southern California.
While traditional wood siding is still a common material in use in older homes, newer homes feature composite siding options that perform just as well, if not better, than their natural wood counterparts – all for a comparable price.
If you think wood siding is the only option, think again. Here's what's new and exciting in composite siding.
Innovative Materials: Fiber Cement Siding
Fiber cement siding is a new option for exterior commercial and residential surfaces. Allura, one of the industry's most popular brands of fiber cement siding, is available in-store at J&W Lumber. Produced by mixing cellulose fiber and sand, silica, and Portland cement, Allura siding products are fire-resistant, moisture-resistant, and weather-resistant.
Allura features lots of siding applications, including shake, lap siding, panels, trim, and more. Many products feature realistic wood grain that echoes the look of natural lumber without the costly, time-consuming upkeep required by real wood.
As a manufactured product, Allura products carry a robust, 50-year warranty, further ensuring your siding investment stays protected.
Increased Useability: Ground-Contact Products
Natural lumber siding should never come in contact directly with the ground and should be avoided for high moisture-collection areas such as windowsills. Moisture starts eroding wood from the first moment of contact. Over years, moisture-laden wood will start to rot and require replacement.
The solution? Boral TruExterior fly-ash siding and trim.
Fly-ash is a by-product recovered from coal combustion. Because it's an engineered material, fly-ash resists damage from moisture, heat, direct sunlight, salt air, or insects. This means that TruExterior siding and trim products are approved for ground contact and can be combined with other siding on the areas that are likely to face more moisture exposure.
Just like fiber cement siding, TruExterior products require minimal maintenance, which makes these products an ideal siding option for anyone who wants to "install it and forget it."
Impressive Style: Trex Cladding
"Cladding" is an umbrella term referring to the outermost shell of any building. It's the exterior surface that the weather touches.
Trex cladding is an attractive, durable choice that instantly imbues any structure with an elegant, modern style. This composite siding material is made from 95% reclaimed wood scrap and recycled plastic. Trex is available in a variety of natural-looking colors with grain that mimics the aesthetic of real lumber.
Unlike natural wood, Trex resists fading or staining from sun or rain, and is impervious to moisture or pest damage. This guarantee is backed by a 25-year "fade and stain" warranty. Just like all other composite siding materials, one of the main advantages of Trex is that it doesn't require expensive, frequent maintenance.
Composite siding is making major waves throughout the construction industry. Today's man-made siding is durable, long-lasting, attractive, and perfectly priced. If you're thinking of replacing the siding on your home – or installing new siding configurations – take a look at composites. There's a whole new world of cutting-edge products waiting for you.
Visit any of our Southern California J&W Lumber locations to check out siding samples, ask questions, and get started on your project.