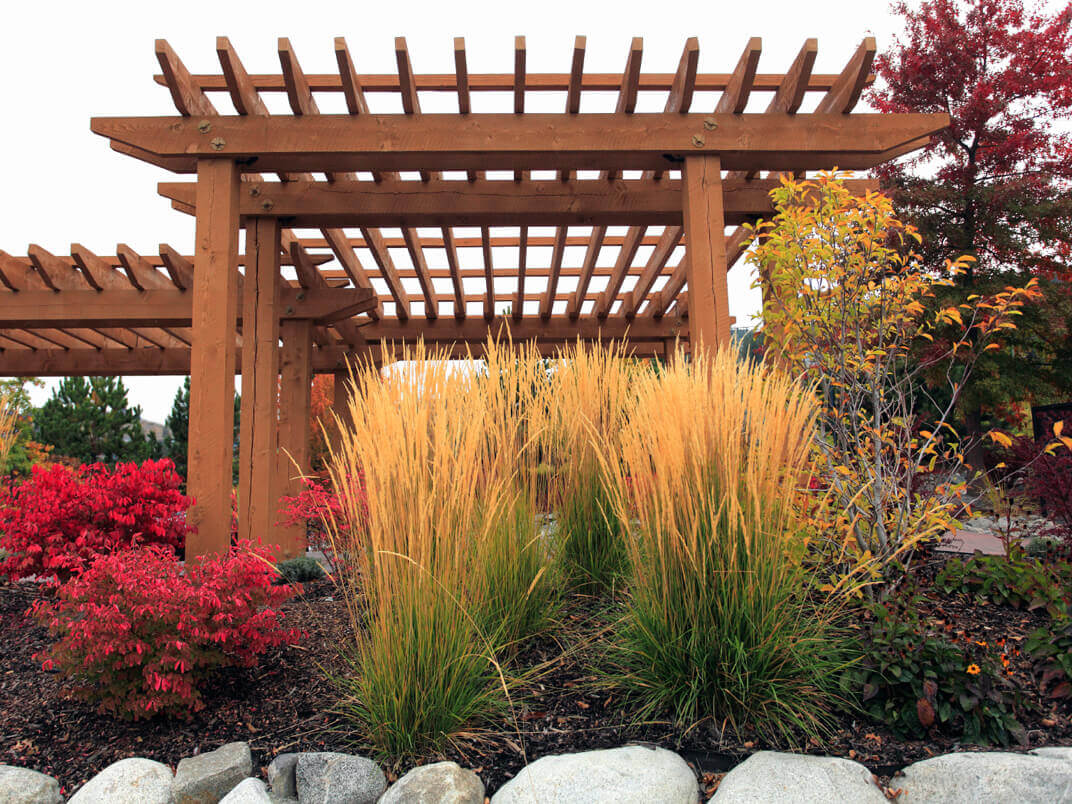 Summer is just around the corner and you've dreamed up a killer outdoor project. You can see it clear as day in your mind and you're ready to get to work. You've laid out the plans and you're ready to procure the materials. You know you'll use wood for the project. But have you thought about what type of wood you'll use?
Deciding you'll use wood for your project is like saying you're going to get a "dog" as a pet. When you're choosing a dog, there are a lot of breed options and some breeds are better suited for certain lifestyles. For instance, if you live in a studio apartment, a Great Dane probably isn't for you. Wood is no different. Each building project is unique and choosing the right lumber for the job is an important step in the building process. Some woods are better fits for certain projects. And of course, personal taste comes into play as well. You could just use "standard" wood, it's readily available from any big box lumber outlet – and generally at a cheap price. But like most else in life, you get what you pay for. Quality wood a reputable lumber yard makes for quality construction.
There are virtually endless projects for your home that you can build with wood, from end tables to treehouses. Here are three popular projects for homeowners – and the best types of wood from a lumber company for each project:
Decks
A deck is the outdoor room of your home. You'll spend as much time on it as the sun and weather allow. A great deck can be a point of pride for your home. It can be the grand stage on which to entertain guests and the quiet place to soak up some rays or enjoy an afternoon of reading a book. A deck is versatile and its materials should be as well.
Best bet:  
The understructure of any deck should feature pressure-treated-lumber, which will help your deck withstand the elements, from weather to sun to insects. Without pressure-treated wood from a lumber yard, your deck's understructure may become susceptible to decay and rot.
For the top of your deck – the part you'll be looking at and walking on – there are countless options. The best solution depends on your tolerance for maintenance , your preference for look and feel, and your budget. Softwoods (like Redwood and Cedar) are gorgeous woods that feel comfortable under your feet and are most affordable. Hardwoods (like Mangaris and IPE) combine beauty with stability, and can provide you with a deck that will last for many years to come. If you prefer a solution that requires little to no maintenance, investing in composite decking (like Trex, Fiberon and TimberTech) would be the way to go. It requires no sanding, staining or finishing.
Patio Covers
Patio covers (or awnings) are the outdoor roof over your head. They shade you from the beating sun and shelter you from falling rain. Your patio cover is the first line of defense from the elements – and it needs to be well-equipped.
Best bet:
"Rough" or "surfaced" lumber make great patio covers. Generally, these are softwoods like Douglas Fir, Redwood, and Cedar. Another great option is Alumawood, which combines the beauty of wood with the durability of aluminum to create a durable solution with endless design options. Patio covers are an open canvas to create an artistic and functional structure for your home. Choose materials from a lumber company that match your vision.
Fences 
A good fence marks your domain and surrounds your little slice of America. A fence quite literally puts your stake in the ground. You want a fence that looks great, works great and lasts.
Best bet:
Fence rails and posts – like the understructure of decks – should be constructed with pressure-treated lumber to ensure a long lifespan. Posts, since they will have contact with the ground, should be constructed from lumber yard wood with a stronger treatment (a .40 retention level, measured in pounds of treatment per cubic foot). Metal posts are a great option as well.
For fence boards, the options are many. Cedar, Redwood and Whitewood are most readily available. Each of these woods is easily stainable, which not only gives the wood a sleek look but will help protect it from the elements and insect damage. Vinyl fencing, available in various looks, is low maintenance and incredibly durable. Many brands include a lifetime warranty.
They say variety is the spice of life – and wood is the spice of building. Well, we say that anyway. Check out our extensive collection of materials at our lumber yard to get your project started today!