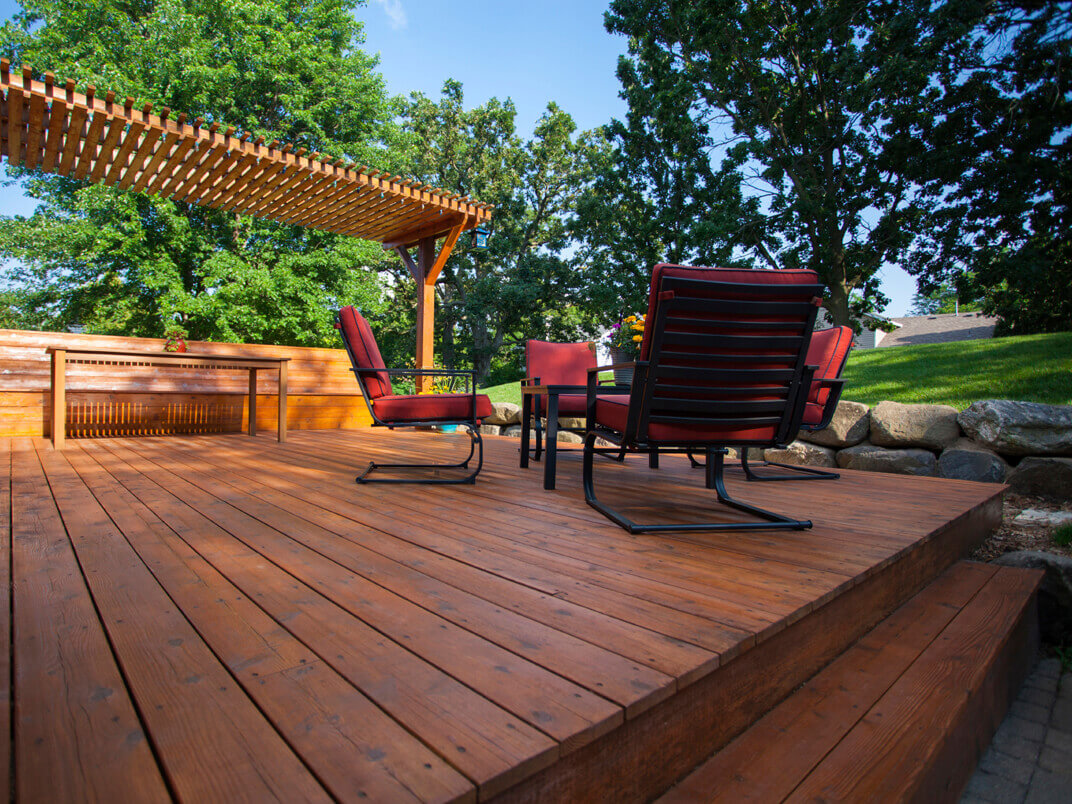 There are various pre-construction considerations to make before moving forward with your new deck. But let's focus on the most important (and fun) consideration for building your dream deck – the material. The wood or composite material you choose for your deck design will be its building blocks, its character and an extension of the style of your home.
There's plenty to consider when choosing deck material, so do your homework before you settle on the perfect solution.
Understructure Materials
Your first inclination when selecting wood for your deck will be to think about what it will look like. But before you choose the look, you must first determine the structure. The understructure is, literally, the foundation of your deck. Materials should be sturdy, hardy and built to support a heavy load. If you plan on having a heavy grill – or something heavier, like a hot tub – determine how that will affect your understructure. Make sure your understructure has additional posts to support those sections.
For understructures, use Pressure Treated Lumber or steel. Both are rot and insect resistant, sturdy, and can bear the necessary load of a well-traveled deck. You'll need to determine the right amount of posts for your deck, which is based on a number of factors including size, height, weight-bearing needs and code.
Maintenance
When planning your dream deck, the ongoing maintenance is often an afterthought. It shouldn't be. Your deck will be your outdoor space for many years to come and it will require care throughout its life. The amount of care will depend on your materials.
As a rule of thumb, softwoods generally require more maintenance than hardwoods – and both require more maintenance than composite decking solutions. If you are the type of person who can't wait to get to the next weekend project, a natural wood deck is for you. If you're more of a "set it and forget it" type, you may want to consider a composite deck.
The Surface
Now for the fun part – selecting the "look" of your new deck. Whether you ultimately decide on natural wood or composite, you'll have plenty of beautiful options to choose from. Softwoods can be stained a variety of shades and composite decking comes in a broad array of colors to meet just about any style preference.
Softwoods
Softwoods, like Redwood and Cedar (including variations like Western Red and Alaskan Yellow) are unmatched in natural beauty. These woods mimic the natural surroundings of California, creating a continuous space that blends your home with nature. Needless to say, there's a lot to like about softwoods. And don't let the name fool you – softwoods are rot and insect resistant. With a little love and care, they'll last a lifetime. Softwoods can take on multiple personalities throughout the life of your deck. From natural coloring due to weathering to stained on a yearly basis, they can give your deck a new look whenever you choose.
Hardwoods
Hardwoods, like Mangaris and Ipe, are the most visually stunning and impenetrable woods available. The structure of these woods is incredibly dense, making them all but impervious to termites and decay. Hardwood decking will look a lot like a hardwood floor inside of your home. Sourced from the tropical forests of South America and Indonesia, Mangaris and Ipe feature rich colors and tight grains. Hardwood is the go-to choice for high-end decks, as well as docks and yachts throughout the world. Installing a hardwood deck can be challenging, so make sure you're confident in the process if you plan on installing the deck yourself.
Composite
Composite decks from manufacturers like Trex and Fiberon truly offer the best of both worlds – the beauty of wood without the ongoing maintenance. A simple hose-down is all the maintenance you need for a composite deck. No sanding, no painting, no staining. Constructed using a combination of wood pulp, plastics and polymers (each manufacturer uses a different formula), composite decks are completely resistant to weather and insects, and most include manufacturer's warranties. When composite decking first came to market, it was more expensive than most wood solutions. But the emergence of new manufacturers and new technology has resulted in affordable pricing on par with softwood solutions.
Railing
In order to comply with safety codes, some decks will require railings. There are lots of options for deck rails, depending on your construction, visual preferences, and view considerations. Like the surface of your deck, you can utilize wood and composite railing material. But other options, like glass, metal, and cable railing are available too. Glass and cable railings can help provide an unobstructed view from your deck, while wood and composite can give it seamless continuity. There are also various forms of post caps, lighting and other add-ons that can make your railings functional and beautiful.
When it comes to building your dream deck, your options are almost endless! If you would like to discuss your options, or just get some helpful tips, contact us or stop into one of our showrooms!