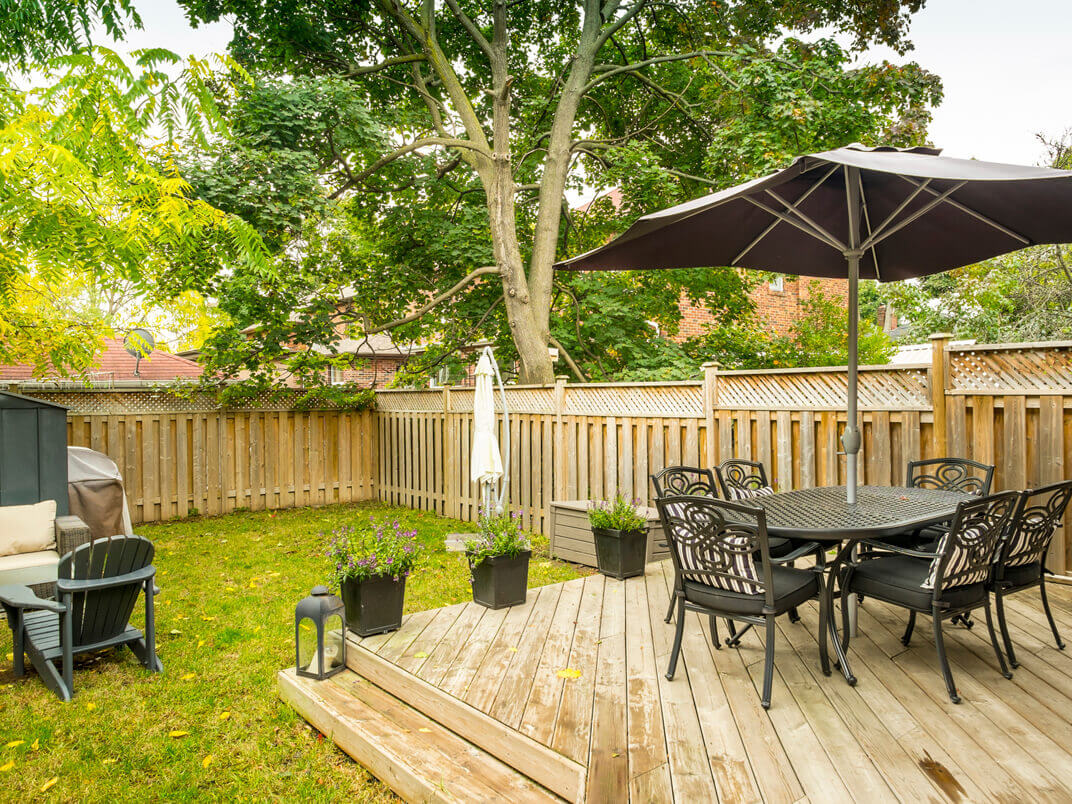 There is a myriad of reasons to build a fence around your yard – privacy, setting the boundaries of your property, keeping your kids and dogs safe, and keeping critters and nosy neighbors out. A home with a fence is classically American, but we've come a long way from the traditional white picket fence. Technology, taste, and necessity have spurred the development of a variety of different fence types in both look and material. There are options to match nearly every consideration and functionality. Before you choose your fence, consider your need for functionality, and preferences for security, privacy, and maintenance.
Security
A good fence will keep the things you want in – and the things you don't out. Of course, the level of security needed for each situation is unique. If you don't want your Chihuahua to escape, you won't need a giant, steel-reinforced wall. A basic board fence should do the trick.
Security is also about keeping things out of your yard – like critters. Southern California is full of animals that you would rather not join you for a family BBQ. If you live near a canyon, your yard is exposed to coyotes, rattlesnakes, and even the occasional curious mountain lion. Not exactly welcome guests. You don't even have to live near a canyon to be exposed to unwelcome guests. Skunks, possums, and rats roam the streets looking for a meal. If you live in an area where critters are abundant, you'll want to build a fence that is snug to the ground and tall enough to deter intruders.
Privacy
Hopefully, you like your neighbors. Perhaps they're helpful, friendly and you often spend leisure time with them. You most likely do not, however, want to share every detail of your private life with them. As the old saying goes, good fences make good neighbors. Whether you have friendly neighbors or you live next door to a fraternity house, privacy is always a good thing. When choosing your fence design˚, make sure to keep in mind the level of privacy you want – and how that will impact the look and feel. There is a happy medium between privacy and style. Find yours.
Maintenance
Some folks love a good project. If performing upkeep on your fence sounds like a great way to spend your Saturday, you're likely not the type of homeowner to be scared off by a little maintenance. However, if you're the type who would rather spend Saturday at the beach, or anywhere else that does not require you to do physical labor, you'll want to choose a low-maintenance material for your fence.
Once you have an understanding of what you need your fence to accomplish, it's time to choose your materials. The most popular choices are wood and vinyl. Each has its benefits, and each can deliver a gorgeous, long-lasting fence for your home.
Wood: Classic, natural and affordable
Wood fences have dotted the American landscape since colonial times. Since there was no J&W Lumber in colonial times, early settlers were forced to construct split-rail fences from basic timber called the Virginia Worm Fence that could be assembled without tools or hardware.
Wood fences have a come a long way since, but much remains the same. Cedar, for instance, remains a top choice for wood fences, as it was for the first American settlers. The benefits of a wood fence are undeniable. Wood is sturdy, affordable and versatile. It's also easy on the eyes. There are a variety of woods to choose from: Softwoods, like Redwood and Western Red Cedar, are lightweight yet sturdy, and very affordable. Hardwood fences, like Brazilian Ipe and Mangarais, add a touch of elegance and an incredibly unique look to your fence, sure to be the envy of your neighbors. Wood also offers a variety of shades, since it can be stained to match each homeowner's preferences.
Wood does, however, require ongoing maintenance. Since your fence will be exposed to the elements, wood needs to be stained and sealed every couple of years to keep up its fresh appearance. Depending on where you live (wood tends to deteriorate more quickly in coastal climates due to salt air) wood may require more frequent upkeep. Wood fences are typically more difficult to clean than their vinyl counterparts, as dirt and other substances can penetrate its fibers.  Despite the need for minor upkeep, wood is an affordable, effective and gorgeous material for any fence.
Vinyl: Maintenance-free and built to last
If you're looking for a set-it and forget-it fencing option, vinyl is for you. Vinyl fencing is quickly gaining in popularity with homeowners. Though it is a more expensive option than wood, vinyl's durability and lack of required maintenance can actually make the total cost of ownership over the fence's lifetime similar to that of a wood fence. Some manufacturers, like Duramax, offer lifetime warranties on their vinyl fences. The only maintenance required for vinyl fencing is a hose. Simply turn your hose on, point and shoot. Dirt, dust, bird droppings and everything else should wash right off. And unlike wood, which will expand and contract with temperature changes, vinyl stands up to the elements, be they rain, sun, wind or salt air.
While vinyl can't always emulate the same beauty of a wood fence, emerging designs – like DuraGrain – do a great job of recreating the look of traditional wood fencing, without all that pesky maintenance. Vinyl fencing is available in a variety of styles, from the classic white picket to modern horizontal slats.
Different Strokes
Vinyl and wood fences each have their own pros and cons, and both are a great option for any home. But in the end, personal preference determines which option is right for you.
Learn more about your options, from style to price to functionality, by stopping by your J&W Lumber showroom and chatting with one of our fencing specialists!