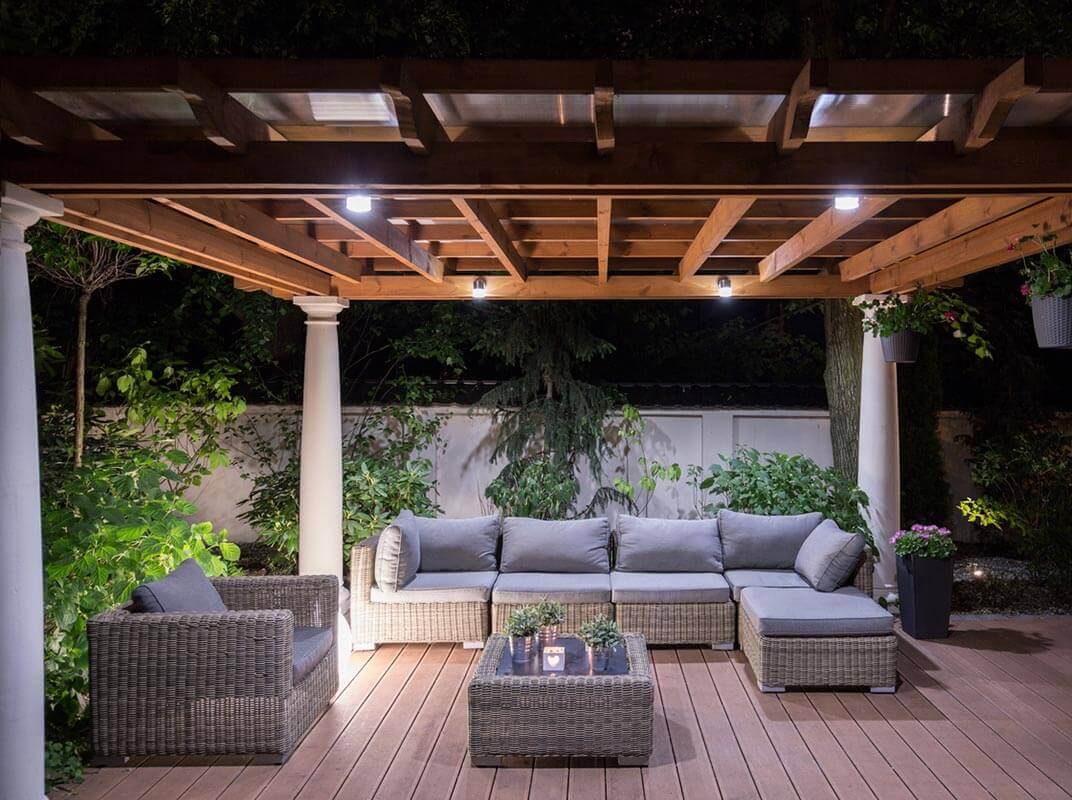 Fall and winter in Southern California mean gorgeous days, brisk nights, and – the sun going down in the middle of the afternoon. The sunny days feel decidedly brief in the winter months. But that doesn't mean we have to stay locked in our homes while the sun hides. We may not be blessed with long winter days, but we do have fantastic weather – even in the "chilly" winter nights.
Spending an evening outdoors on your deck requires some lighting, and thanks to emerging technology and new deck lighting solutions, your outdoor space can be just as enjoyable in the evening as it is during the day. Gone are the days when a glaring spotlight or a soft 75-watt bulb were the only choices for deck lights. Today, there are countless options to make your deck come alive with brilliance.
LED Is Here to Stay
Once an outlier, LED lights are now the norm for everything from deck lights to street lights to holiday lights. LEDs require far less electricity than traditional incandescent or fluorescent bulbs – and they last much longer. LED bulbs emit a very bright light, which can mimic daylight.
If bright isn't your thing, LEDs are available in a variety of hues, including softer white and even blue. LEDs also have the added benefit of being a "plug and play" solution. You can add more lights to a single transformer and connect the lights one by one if you wish. This means you don't need an electrician, and you'll save money. It's called a "win-win."
Start from the Bottom
When we think of deck lights, the first thing that comes to mind is a floodlight or spotlight, attached to a wall or roof, shining light down onto the deck. Modern decks, however, are taking a different approach to lighting – starting from the ground up. LED lights can be implanted directly into decking boards, creating a wash of light similar to what a lit pool looks like. This approach allows for a fully-lit living and entertaining space, without overhead glare. As an added bonus, you'll be able to enjoy gazing at the night sky without light pollution from overhead bulbs.
Recessed lights are relatively easy to install – though you may need a specific bit to drill into the deck boards. If you're still deciding on materials for your deck, you may want to consider composite wood solutions. Trex, for instance, offers an array of easy to install lighting solutions that fit perfectly with their decking.
Don't Ignore the Top
Floodlights and spotlights are not optimal deck lighting solutions. Too much glare and too much light concentrated on a single spot. That doesn't mean lighting from above is a bad choice, however. Hanging string lights are a popular way to light your deck without an overpowering glare. Simple outdoor string lights can make your deck resemble a quaint Italian café in the evening. This can be achieved very easily if your deck already features a patio cover. If your deck is open-air, overhead hanging lights can be hung by fastening them to your home/roof and poles attached to the side of your deck. Just add a nice bottle of Italian red wine, and you'll be up and running.
Step Up Your Game
Similar to recessed lighting in deck boards, you can light the steps to your deck. This will keep you from tripping over the steps every night. It also creates a smooth glow that outlines the architectural features of your deck, resulting in a structure that is beautiful – and safe. The same technique can be used to light the rails of your deck, extending the glow to the entire structure. Both step and rail lights – available at J&W Lumber – are recessed and don't add extra bulk, so your deck doesn't end up looking like the Griswold's house from the movie Christmas Vacation.
Light the Posts
The posts on your deck are a perfect place to add some lighting at mid or eye-level. With post lights, there are various design options that will give your deck its own signature look and feel. Easy to install post caps come in all different styles, from a 19th century "Gaslamp" style to modern outlines. Some styles include built-in solar panels, so you won't need to worry about an electric source.
Low Voltage, High Style
No matter what's your fancy, there are nearly endless options for deck lighting that will make your outdoor space come alive when the sun goes down. With LED technology, deck lights require very little voltage and very little maintenance, yet give off brilliant light that will delight your family and your guests. Choosing the right lighting for your deck can be a bit overwhelming with all the choices, but we're here to help.
Contact us today or stop by one of our showrooms and we'll help you light up the night!