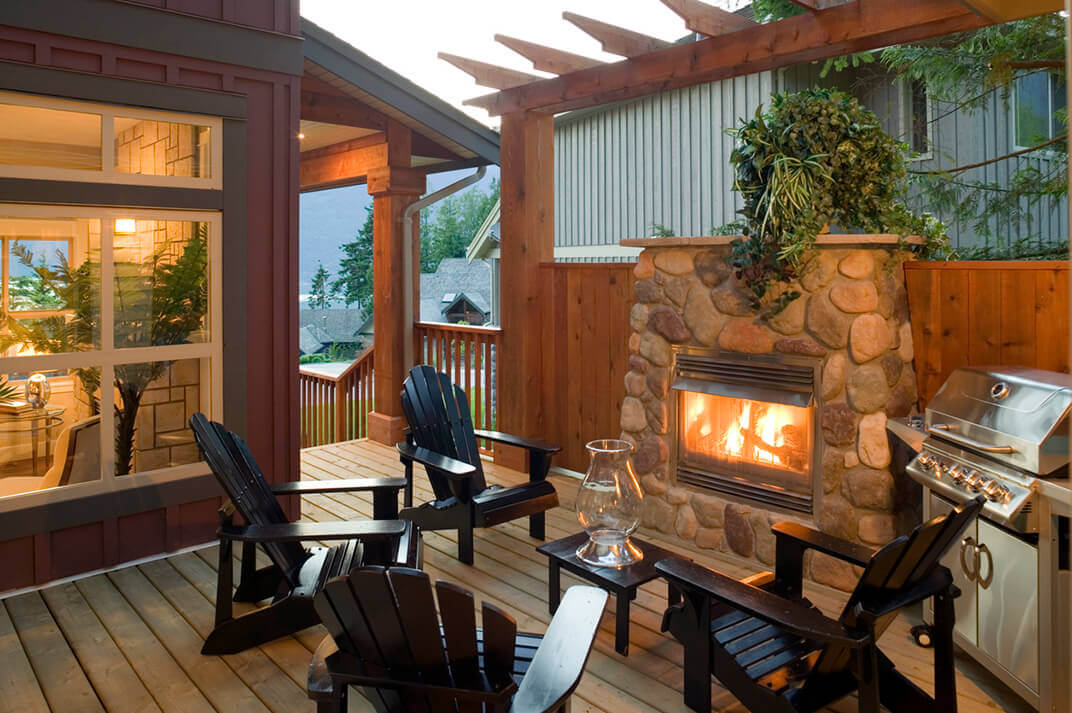 Forget the Halls – Deck Your Deck!
The holidays are here again. Holiday music blares from the speakers, holiday parties fill up the schedule, homes and streets are draped in lights and a "chill" is in the air. Of course, a "chill" in Southern California means the temp is hovering somewhere around 60. Not exactly a winter wonderland, but the beauty of the holidays in California is that holiday parties can be – and often are – held outdoors.
The holidays are a great time to entertain your friends and family and show off that gorgeous deck of yours. Of course, your deck may need a bit of prepping before it's ready for prime time. Here are some tips on getting your deck ready for holiday cheer.
Clean It
Even though decks are exposed to the elements 24/7, they get the short end of the stick when it comes to regular cleanings. Sun, dust, debris, bird droppings and the very occasional rain can make your deck look old and worn. A good and relatively simple cleaning, however, will have your deck looking brand new – often in under an hour.
If you have a composite material deck, cleaning requires only a hose, soapy water, and a scrub brush. Composite decks are famous for the lack of maintenance required for upkeep. A simple wash and scrub will have your deck looking shiny and new. There are special cleaning solutions available for composite decks as well, but a bottle of oxy clean or similar solutions should do the trick.
If your deck is made of wood, a simple wash and scrub will work wonders as well. If it's older, however, it may be time for a refinish and a stain. If you do decide to refinish and stain, you'll want to pick up cleaning supplies and deck brightener. A thorough cleaning followed by the application of deck brightener restores your deck to its natural state and prepares it for sanding and staining. Remember that the type of stain you use depends on whether your deck is softwood (Redwood, Cedar, etc.) or hardwood (Mangaris, Brazilian Ipe, etc.).
Arrange It
Once your deck has been cleaned and/or refinished and stained, it's time for the fun part – designing your party space. Your deck is an open canvas, ready for you to dream up what a perfect entertainment space looks like. Furniture is a good place to start. Adding a picnic table maximizes your seating and serving without taking up too much space. For example, you can purchase Redwood picnic tables – with both attached and detached benches that can be stained to match the color of your deck or left in their natural, classic California look and feel.
Tables, benches, and Adirondack chairs can also help provide your deck with a comfortable and stylish setting for guests. If you have a composite deck, you can achieve the same effect with composite deck furniture from manufacturers like Trex – which offers furniture packages by style for those who want a seamless look.
Your guests will thank you for offering them a place to sit and a table to hold their drinks. But your guests are also hungry. Sure, you could conceivably cook for them in your kitchen, but what fun is that? Everything tastes better on the barbeque, and there's nothing quite like a built-in grill to give your deck a high-end feel.
Light It
December days are notoriously short in Southern California, so unless you're hosting a lunch party, you are going to need some lighting. Modern lighting options are light years ahead of the simple floodlights of yesteryear. Energy-saving LEDs have replaced traditional bulbs, offering longer life with minimal power needs. Available in a variety of colors and styles, the right combination of LED lights will make your deck shine like a Christmas tree. Bulbs aren't the only thing that have changed in lighting. You can now light just about every portion of your deck – from the steps to the posts and rails to the boards themselves – with easy to install lighting kits. From recessed light to overhead floods, your lighting options are nearly endless. Check out our blog on deck lighting for more ideas.
Heat It
OK, SoCal does get a little bit chilly during Winter, particularly in the evening – when you are most likely to be entertaining guests. But don't let the winds of winter discourage you from having a holiday party. Just heat up your deck! Patio heaters are a Southern California staple, and if you don't have one, treat yourself to an early holiday gift. There are a variety of both propane and electric-powered patio heaters available that will keep your guests cozy and warm. Think of it as the Southern California equivalent to curling up to the fire during the holidays.
A New Deck for New Year
As the year winds to a close and the new year is upon us, we say goodbye to the past and welcome in a fresh start. What better way to start fresh than with a revamped and re-styled deck?
If you're not sure where to start, J&W Lumber can help. Contact us or stop into one of our showrooms today!