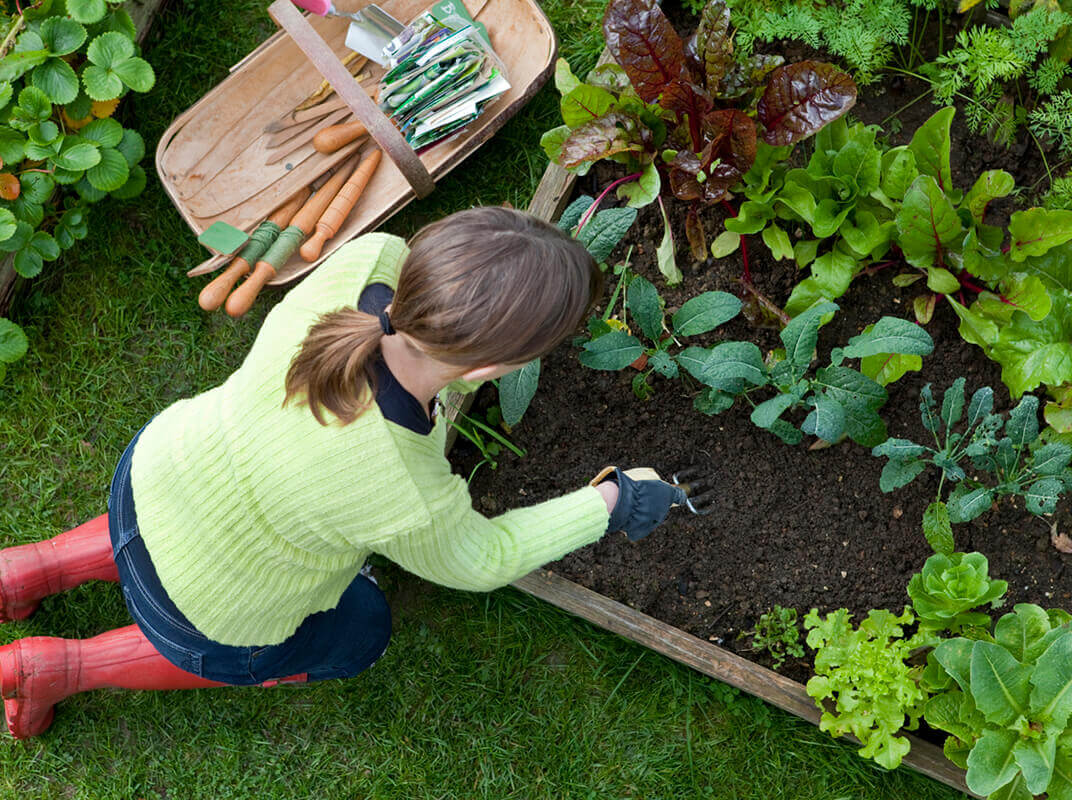 Spring is in the air, and you know what that means – it's garden season! Time to plant those herbs and vegetables and eat healthy meals of your own creation all summer long. If you plan to build your own garden box this year, you're in good company. The garden box is quickly becoming one of the most popular forms of gardening – with good reason.
They're easy to work with: Garden boxes sit higher than your typical in-ground garden, meaning you won't have to throw out your back bending over or stain your pants kneeling on the dirt. With a garden box, you can garden the way nature intended it – standing up and with a hose.
They yield quality crops: Garden boxes allow you to tightly control the soil quality, amount of fertilizer and water in your garden. They also help keep out pests and insects, allowing your crops to flourish undeterred.
They're easy to build: You don't have to be a master carpenter to build a garden box. All you need is some wood boards, posts, a circular saw, a power drill, a bit of planning, and some wood screws. Depending on your skill level, you can construct a brand-new garden box in a matter of hours.
Build Your Garden Box
Building a garden box is a pretty simple affair. In fact, there are only a few materials and tools required – a power drill, circular saw, wood screws, and some wood. You have plenty of choices for wood. Everything from Cedar to Redwood to Doug Fir – and for the more advanced woodworker, there are elegant hardwoods like Mangaris and Brazilian Ipe. Redwood is the most popular choice for garden boxes. It's hardy, sturdy and easy on the eyes. Many gardeners opt for merchant-grade, rough strewn Redwood. It's thicker than its finished counterpart and will give your garden box a more natural feel.
Once you've chosen your wood, it's time to create a design. The depth of your garden box should be at east 18" to provide rooting space for a wide variety of plants. When it comes to the shape of your garden box, you're limited only by your imagination. Here are a few options to get those creative juices flowing: 
The Standard
If it ain't broke, don't fix it. The standard garden box is a simple rectangular structure that simply gets the job done. Simply cut the side board to the size of your choosing, and get planting.
Option: Build a raised garden box on legs to keep out pests and critters.
The Kit
Not everyone enjoys a full-on DIY project. For those who would rather spend more time gardening than building, affordable and easy to assemble garden box kits are available in a few standard sizes – 2'x4′, 2'x6′, 4'x4′, 4'x6′ and 4'x8′. With a garden box kit, you'll be up and running in an hour or two.
Option: Feeling artsy? Paint a unique design on the outside of your garden box.
The Urban Special
Just because you live in an apartment, doesn't mean you can't grow your own food or flowers. A 2'x2' garden box may not allow you to feed a small nation, but you'll be able to grow fresh vegetables and herbs for truly homemade meals.
Option: Add wheels! Build legs with wheels so you can move your garden box around your balcony to follow the sun.
The Perimeter
Who needs a fence when you can have a garden surrounding your property! A large, perimeter garden box is easy to access, provides extensive gardening space and creates a gorgeous border to your property that will be the talk of the neighborhood.
Option: Add a wooden trellis to grow beans and increase privacy around your property.
The Runway
A long, rectangular garden box allows you to access your crops easily from either side, while providing ample gardening space. No more hard to reach and hard to water plants. You won't even get your hands dirty!
Option: Put chicken wire at the bottom of your garden box to prevent enterprising varmints from digging up from below.
The Repurpose
For a pro-level DIY garden box, find something old and make it new again. And old wheel barrow or claw-foot tub would make for an entirely unique garden box. A friend of ours even turned an old dog kennel into a critter proof gardening cage!
Option: An old red children's wagon is a great option for growing herbs.  
Hopefully, you have some ideas stirring in your head for your own unique garden box. Now it's time to get to work!