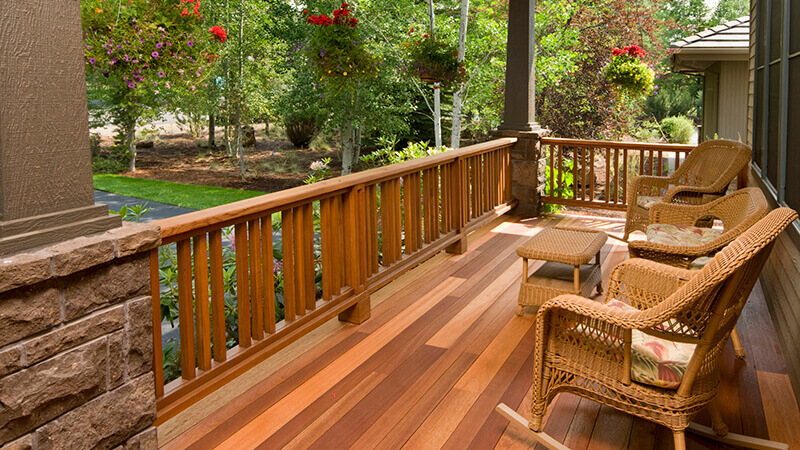 The Beauty and Brawn of Western Red Cedar
"It looks so good, you could almost eat it." That's what one of our long-time employees remarked when eyeing up some Western Red Cedar timber at our lumber yard. Though Western red cedar lumber isn't part of a well-balanced diet, we agree that it looks and smells amazing. Most importantly, though, it's a near-perfect wood to use for a variety of projects around the home. Native to the North American West Coast, Western Red Cedar is a stronger and often more desirable alternative to other softwoods for a variety of reasons.
Strength and Stability
Western red cedar lumber is one of the strongest and most stable softwoods on the market. It doesn't twist, turn or bow nearly as much as other softwoods, making it great for building projects that require both stability and a level of precision. The reason for Western red cedar's strength lies in its core. The "rings" in the tree are closer together than most other softwoods, giving it more strength and stability.
Consistency
Whether you're building a deck, patio cover, fence or outdoor furniture, consistency of grain and color is a desirable trait. Western red cedar lumber has it in spades. With other softwoods, different boards may have completely different looks and colors. Redwood lumber, for example, has a lot of color variation based on what part of the tree the wood came from. Western red cedar's tight grain gives it more consistency of color, with less variation than Redwood. While the wood does have some color variation, it is mostly in different shades of brown. These competing styles are a matter of preference, but for those who prefer a more homogenous look, western red cedar is the way to go.
Weather and Insect Resistance
All wood ages and eventually decays. But some woods just age better than others.
Most softwoods are great at keeping water and bugs at bay, but western red cedar's tannins make it more resistant than most. Western red cedar lumber stays stronger for longer, giving your decking, patio cover, fence or furniture an extended life – as well as more consistency and protection.
That Sweet Smell 
Walk onto a deck made from western red cedar and you can't help but breathe in its clean, natural smell. It permeates everything from your nostrils to your clothes. In fact, most tailors will tell you to hang your suits on cedar hangers to keep them smelling fresh. For homeowners who want to create a truly natural space with their outdoor projects, the smell of cedar goes a long way in seamlessly mixing the indoors with the great outdoors.
Great for Furniture
Lower end softwoods like Doug Fir are sufficient for building simpler outdoor projects, like deck posts and fencing, if you're more concerned with budget than style or longevity. Some projects though, require wood that's up to the task. Outdoor furniture is a great example. Western red cedar lumber is great for building outdoor furniture, for many of the reasons listed above – particularly its resistance to bending and twisting. Western red cedar also provides the wood stability that allows you to make precise measurements and cuts, without worrying about abnormalities in the wood. Western red cedar's sturdiness will also help your furniture take a good beating over the years and still look and feel great.
Aging Gracefully
One of Western Red Cedar's greatest benefits is its ability to age gracefully. The wood slowly greys over time, creating a gorgeous weathered look. Every wood eventually ages, but Western Red Cedar stays stronger for longer – and looks great doing it.
Have an upcoming project and trying to decide what type of wood to use? Western red cedar is almost always a good bet. At J&W Lumber, we offer western red cedar lumber in different grades – including high-end "Select C" – with various looks and pricing. We're also one of the only lumber distributors to carry full size western red cedar lumber in stock.
Get in touch or stop by one of our showrooms today and see western red cedar in all its glory for yourself!