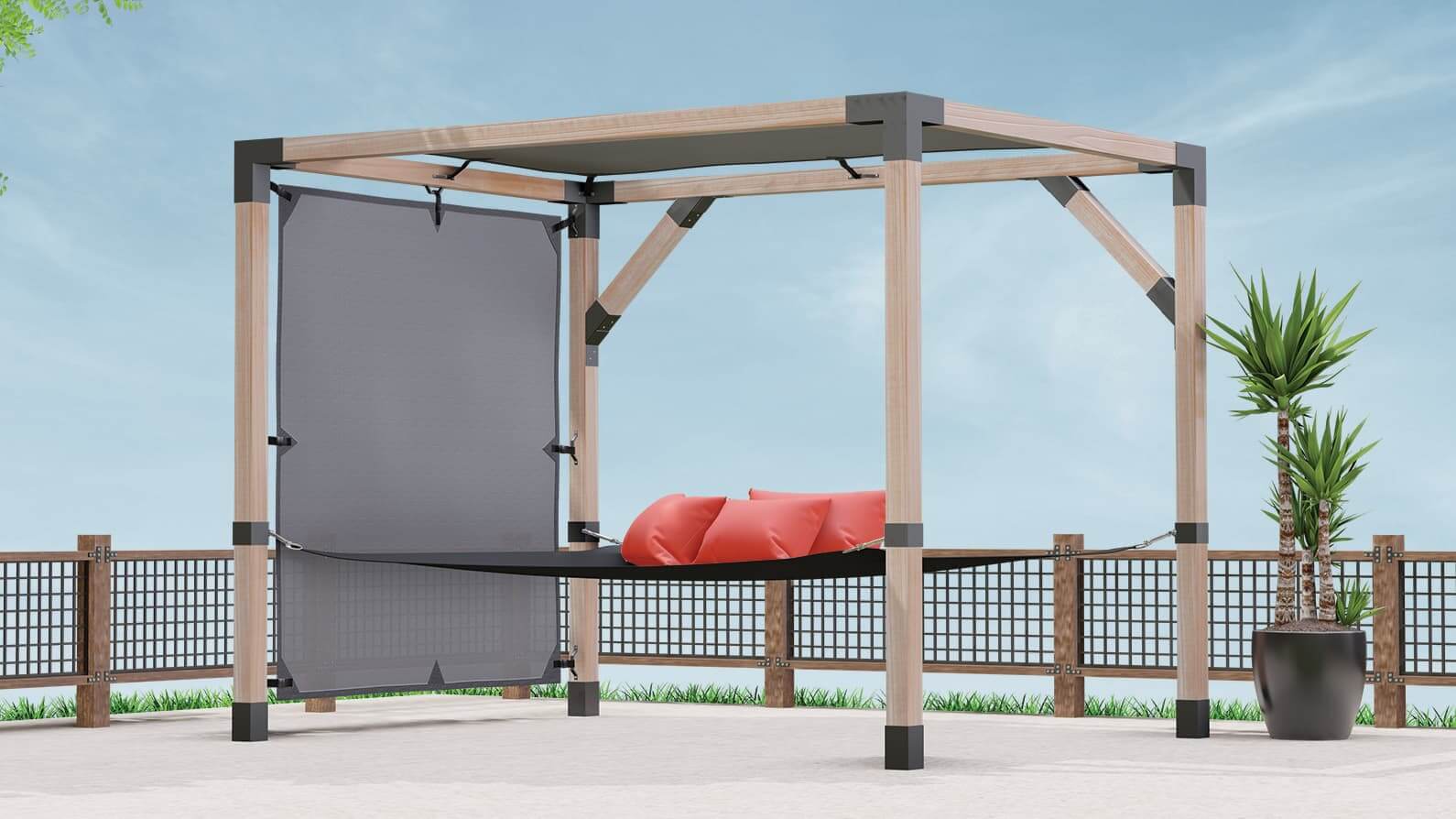 Installing a pergola can instantly transform your outdoor space. In addition to providing shade and creating a focal point, a well-built pergola adds a "wow" factor that can revive an underutilized outdoor area.
If you think building an attractive pergola is too complicated or time-consuming, think again. There's an exciting new product on the market that any DIYer can truly DIY.
LINX: A simplified pergola system
Produced by the well-established Wild Hog Company (makers of Wild Hog wire fencing panels), LINX is a straightforward pergola hardware system that can be installed in as little as an hour.
Inspired by the beloved construction toy Lincoln Logs, LINX aims to remove the complications of pergola building to make these useful outdoor structures more accessible.
J&W Lumber is one of the only hardware stores in Southern California to carry this innovative line and we're excited to share it with you. 
How it works
LINX hardware consists of connectors and joints made of high-grade galvanized steel, primed, and painted with a durable powder coat.
To assemble your LINX pergola, simply insert your pre-cut 4×4 or 6×6 posts (we recommend redwood, cedar, or Douglas fir) into the connector tubes and attach with screws. Create a simple cube structure or use a T-connector to double your footprint. Depending on your design, use diagonal knee braces for more structural support.
Each LINX connector tube is carefully designed and precision-welded, so posts slide in and attach easily. Because the steel tubing is 50% thicker than standard outdoor hardware, your pergola will remain strong and sturdy for years to come.
Cap the bottoms of your posts with UNIFIT post bases to secure your pergola to wood or composite decks, concrete, or any other structurally sound surface.
Ideas to spruce up your LINX pergola
The simplicity of the LINX system is only half the fun. The rest comes from personalizing your pergola to match your design aesthetic. Below are some ideas to get you started. We carry most of the products below on-hand at our Southern California J&W Lumber locations.
Attach a sunshade. Reduce the harsh effects of the sun by connecting a LINX sunshade overhead or to the side of your pergola. Simply attach sunshade hardware to your posts and snap in your shade.
Connect a hammock. Create a relaxing nap spot or reading nook by using LINX connectors to attach a 4'x8' or 8'x8' hammock directly to your pergola's posts.
Grow climbing vines. Install Wild Hog fencing on the sides, back, and top of your pergola and plant climbing vines in the ground or an elevated planter box.
Paint or stain your posts. Keep your LINX hardware its original sleek black or re-paint with contrasting colors.
Think outside the backyard
LINX structures are the perfect solution for use as pool cabanas for boutique hotels or quick-install outdoor seating for restaurants. The cost is comparable to a traditional pergola, so the main difference is how quick and easy it is to set up the structure.
If you're considering installing a pergola any time soon, visit your local J&W Lumber to explore the LINX Simplified Pergola System before you build. This user-friendly system might be the perfect solution for your pergola project.
As one of the only distributors carrying LINX in Southern California, we've got everything you need to get your pergola off the ground. Stop by one of our stores and we'll show you around.