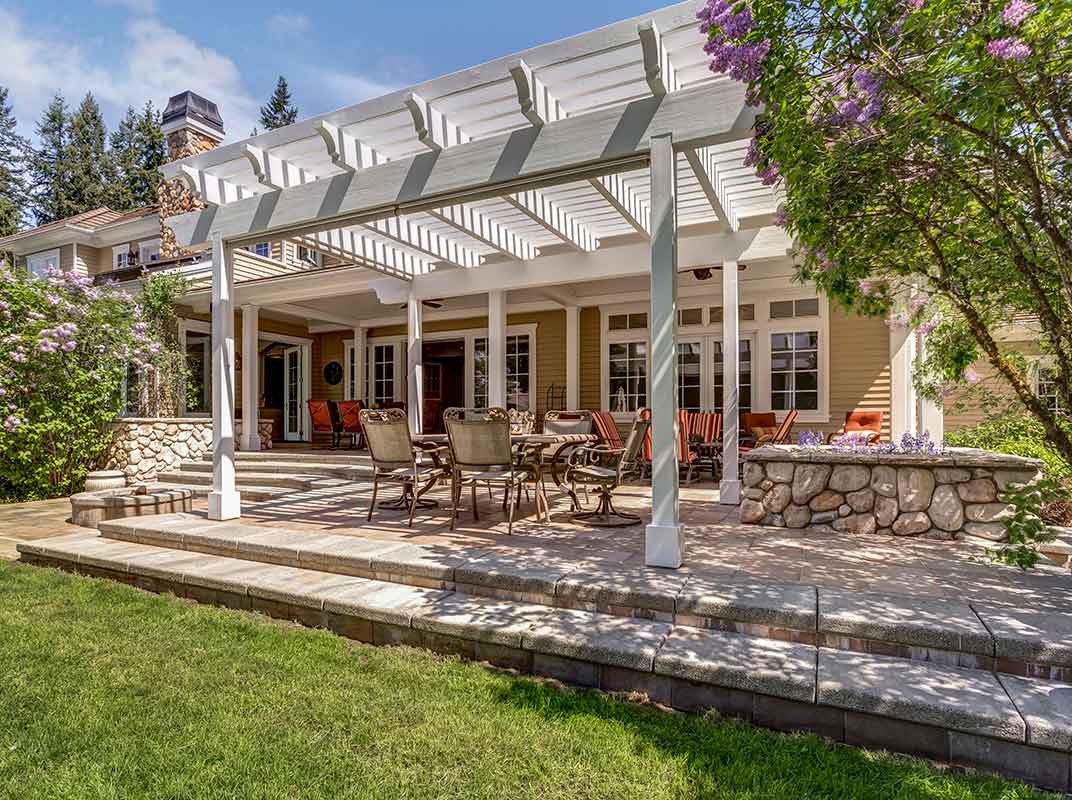 Patio covers (or "pergolas" as they're sometimes called) are a fantastic way to freshen up the look of your backyard. Not only are they an attractive visual centerpiece, they provide much needed shade to make a back patio more livable. However, before you rush to your local lumber store or dig your first footing, you'll have to get your permits squared away.
Here's what you should know to make sure your new patio cover meets code requirements.
Yes, a permit is required for patio covers
First and foremost, you do need a permit to install a new pergola in your yard. Like all home improvement projects, the permitting process aims make sure that construction is safe and stable. It might be tempting to try to get away with not obtaining the correct permit, but you should never cut corners. Lack of a permit will come back to haunt you in serious ways when you're ready to sell your house or, worse, if your pergola's structure fails.
State vs. county vs. city requirements
One of the most common areas of confusion when it comes to patio cover permits relates to managing multiple jurisdictions. There are state codes, county codes and city codes—which one do you follow? The short answer: the most local requirement. State building codes are usually the most general. They set the standard for minimum safety requirements. Cities and counties often establish their own permitting rules, but those requirements can only be more stringent than state code; local municipalities are never allowed to loosen the rules.  If you're within a city that has its own permit standard, you must follow your city-specific rules. If your city has no specific code, then you must adhere to county permitting requirements.
A good rule of thumb is to look for city requirements. If you find none, then review your county's rules. If again you come up with nothing, default to the state requirements.
What's in a code?
The majority of permit requirements are in place to ensure safety, so you should never skimp on permit obligations. Here are some of the most common aspects of pergolas that are covered in city/county/state codes:
Height – The highest point of your patio cover cannot be more than 12 feet from the ground. To ensure easy access under the patio, you must allow a 6-foot-8-inch clearance between the ground and the lowest part of the cover.
Span chart – The majority of most permit regulations for patio covers are dedicated to the span chart, which is a grid that helps you determine correct wood dimensions. Depending on the span of your cover, you'll need either larger or smaller dimensions of wood to carry the added or lesser load.
Distances, depths & diameters – Additional information in the permit requirements will usually include distance between beams, distance between posts, depth of posts, depth of foundation slab, and diameter of posts.
Attached or freestanding: different requirements for each
If your patio cover is attached to a house or structure, in most cases, you can often attach posts to existing concrete footings. However, if you plan to install a freestanding pergola, the code requires you to dig concrete footings to ensure stable support. You won't be able to attach your posts directly to an existing concrete slab.
Read More: Patio Covers: DIY or Hire a Contractor.
Materials & structural differences
Most pergolas are made from wood, but aluminum is an attractive, cost-effective alternative. Aluminum patio covers often have their own code requirements that differ from wooden structures, so be sure to check permit rules closely. Also, look for differences between requirements for enclosed roof patio covers and those with open air beams. Closed-roof pergolas essentially act as giant umbrellas, so they must be strong enough to withstand powerful upward wind drafts.
Obtaining the correct permit for your patio cover is not a difficult process, if done correctly. Save time and money by reviewing the code requirements for patio covers in your area before you begin planning or investing in materials. If you're unsure where to look or unclear about specifics, don't be afraid to ask. The staff at your local lumber store will be able to answer many of your questions. Or, reach out to the permit department of your city or county. They deal with this stuff every day and are usually happy to answer all of your questions. If you take the time to obtain the correct permits, you can be sure that upon inspection for safety and code, your pergola will be covered. 
Thinking of freshening up your outdoor space with a new patio cover? Visit your local J&W Lumber and we'll help you get started.