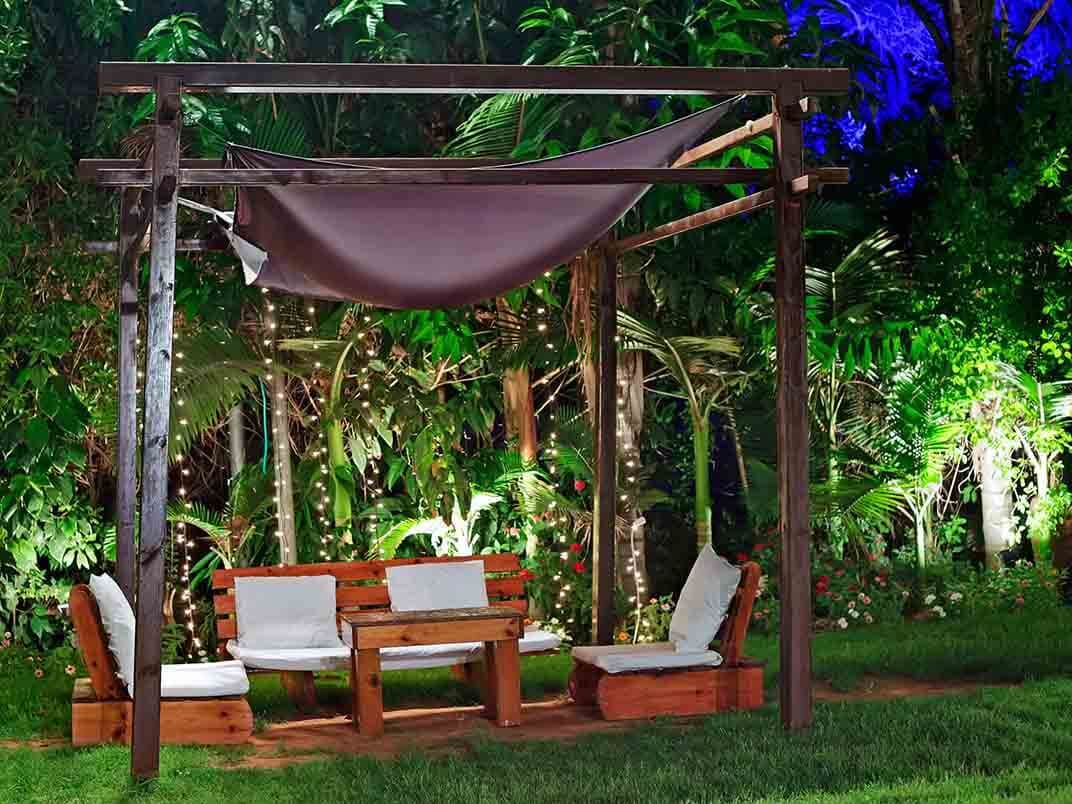 Let There be Light
It's always sunny in Southern California. When the sun goes down each night, we start to miss it. The night sky is beautiful – especially on a clear evening – but it shades the natural beauty around us. It also makes it difficult to entertain guests outdoors in the dark! Thanks to the outdoor lighting innovations, however, you can enjoy the best of both worlds.
Landscape lighting can turn the night time darkness into a beautifully lit outdoor wonderland that accents the highlights of your landscape. With various lighting options and types available, you can create a truly unique living and entertaining experience.
Envision Your Space
With a variety of options from LED to floodlights, the first step in designing your lighting is deciding what you want to accomplish. Here are a few options for landscape lighting:
Flood an Area: Shining a soft light over an entire area can create a livable open space for entertaining – or simply showing off your beautiful property. A well-placed floodlight will cast a soft glow that allows you to enjoy the outdoors 24 hours a day.
Spotlight: You may have a particular section of your yard that is the crown jewel of your space, and you can't bear to let it sit unseen in the dark each night. It could be a gazebo, your flower garden, a Koi pond, or whatever your focal area might be. A strong, direct spotlight will focus all eyes where you want them to go.
Wall Wash: Lighting placed in the ground and directed onto a wall of your home will announce your home's presence with authority throughout the evening, highlighting the beauty of its structure for all to see. Creatively-placed wall wash lighting will give your home a duel-personality in the day and the evening.
Decorative Lighting: Decorative lights aren't just for the holidays. Whether it's a string of lights on your deck, gazebo, or garden bridge – or overhanging LED lights across an outdoor dining space – decorative lights will creative a festive atmosphere in your outdoor space 365 days a year.
Deck Lighting: If you have a deck, there's a good chance it serves as your primary area to entertain or relax outside of your home. Installing deck lighting around your deck posts and rails will create a beautiful ambient light that can make your deck feel like sitting in a lit pool at night. With deck lights, you can eliminate the need for overhead lighting, which can produce glare and an uneven shine. There is a bevvy of lighting options available for decks that will flood your deck with a subtle glow, and give it a post-modern look that will delight your guests and family. From riser lights that illuminate steps to under-rail lights and even in-deck lights, J&W Lumber offers lighting packages that enhance your outdoor space without sacrificing the integrity of your deck's visual appeal.
Well Lights: Like highlighting a portion of your home with a wall wash, well lights can do the same for beautifully landscaped trees and bushes in your yard. Held in place by a removable spike, well lights illuminate bushes, foliage, and small structures to bring your landscape to life when the sun goes down.
Path Lights: The path less traveled can lead to wondrous discovery. But when it's dark outside, it's best to take the path most traveled – and light that path so people don't trip and fall into your flower bed. Path lights provide ambient lighting for walkways, and with various styles available, the right path lights will complement your surrounding décor. Solar is a great option for lighting your path, as there are no wires and virtually no installation involved.
From a small condo yard to a sprawling estate, there are lighting options for every property – and every taste. And with new styles from companies like Trex and Highpoint, you can find the perfect fit for your outdoor space. However, it's not just styles that can vary. These days, there are a variety of lighting types as well.
Types of Lighting Available
Traditional: Traditional lighting, also known as incandescent bulbs, remain a good option for flood, wash and spot lighting. However, these bulbs are being gradually phased out in an effort to reduce electricity use. Increasingly, these bulbs are being replaced by Compact Fluorescent (CFL) and Light Emitting Diode (LED) bulbs for energy efficiency.
LED: Energy efficient and bright, LED lights are now the most popular lighting for landscape. With LED, you can have more lights that last longer – and you don't have to worry about bringing in an electrician to make sure your lights are up to code. The lights are "plug and play." LED lights have a different feel than traditional bulbs – the most popular LEDs emit a clear, bright light that mimics daylight, but there are a variety of hues available, including a softer warm light and blue light, which produce a moonlight feel.
Solar: Sun-powered lighting has evolved, and Southern California is the perfect place to put solar lighting to use. From deck lighting to gazebo lighting to path lights, the SoCal sun will power your solar lights by day, so they can light the way by night.
If you are ready to light up the night in your outdoor space, contact us for ideas on how to create a livable, well-lit outdoor space.