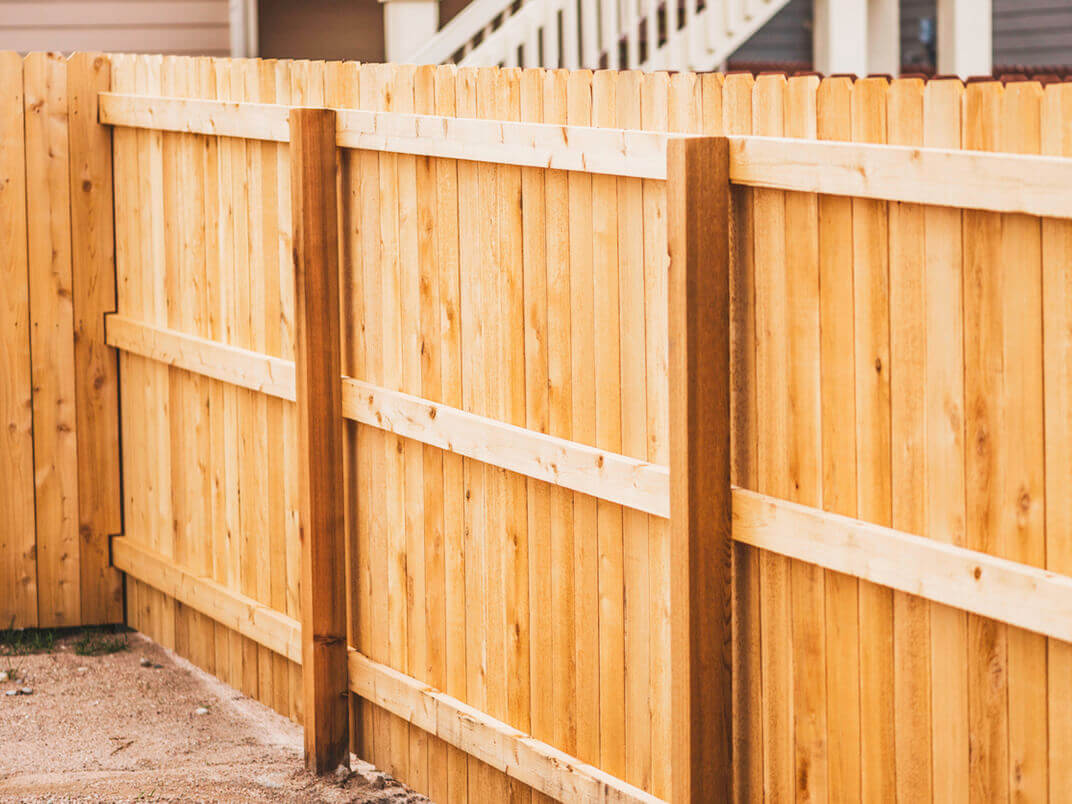 Fence Me In
Fences are often the first to go when the ground gets saturated and starts moving around, like after a recent rain. You may have noticed your fence doesn't look quite right after a couple of months of deluge. Fear not. Consider a rainy winter or spring as an opportunity to install a brand-new fence that will hold up to the elements and boost your home's curb appeal.
Material Shopping
Chances are you haven't explored the fence market in many years. A lot has changed. There are now greater choices in fence material and designs available. Here's a rundown of what's on the market today.
Wood
Cedar, Western Red Cedar and California Redwood remain timeless, beautiful, affordable and flexible. A standard board fence is simple, sturdy, and offers privacy as well as a traditional look. However, the standard board fence doesn't have to be standard. To get a more modern look, simply rotate the boards. Horizontal board fences are becoming increasingly popular as an affordable, yet modern approach to the traditional fence.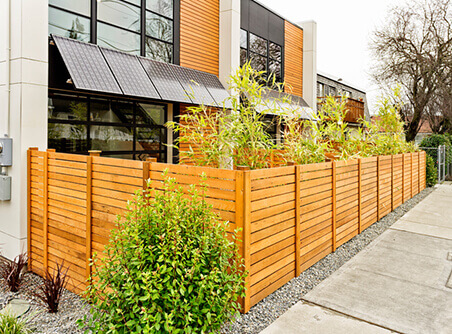 Looking to add a touch of elegance that will give your neighbors fits of fence-envy? Hardwoods like Mangaris and IPE turn the traditional wood fence into a unique structure that screams prestige. Hardwoods are a bit more expensive than softwoods, but if you're looking to dazzle, they are an excellent fence option.
Vinyl and Aluminum
Vinyl records may not have survived the 1970s, but vinyl fencing is thriving in 2017. Vinyl is not a new technology for fences – it's been around for years – but today's vinyl is more versatile, better looking – and much cheaper than its predecessors. In fact, vinyl is now only slightly costlier than softwoods ­– about $5 more per square foot on average.
With vinyl, you can design your fence, your way. With a variety of both vinyl and aluminum-based materials, you will have plenty of options to create a personalized fence that fits your needs and your style. Best of all – vinyl fencing requires virtually zero maintenance through its entire lifespan. A simple hose-down every now and then will do the trick.
ActiveYards – which offers prefabricated, low maintenance, lifetime warrantied fence systems made in the USA – is now available at J&W Lumber locations. ActiveYards systems are one of the most innovative, inexpensive and user-friendly fencing options available. Made from PVC and aluminum, ActiveYards fencing offers high-quality materials at a very affordable price. Best of all – you can easily install the fence yourself. With a simple locking system, the fence parts snap together easily – like Legos for adults. The most difficult part of installing the fence is digging holes for the fence posts. If you know how to use a shovel – and don't mind putting in a little elbow grease – you can save thousands on installation.
Cedar Split Rail
Looking for an unobstructed view with minimal security but with a maximum rustic feel? The post and rail fence has been a staple in America since George Washington crossed the Delaware. Split Cedar offers a natural, frontier feel and is perfect for ranches and homes with larger spaces to denote borders. For a more hearty and durable post and rail fence, lodge polls are a great choice.
Get Creative
New materials like vinyl/aluminum combinations aren't the only new players in the fencing revolution. More and more, homeowners are getting creative with their fences. It's not uncommon to see custom fences that combine existing materials and designs to create something entirely new.
Pro Tips
Split the cost: Your next-door neighbor will be sharing that big, beautiful new fence with you. Why not work together on the fence and split the costs?
Know the rules: Always check your local building codes. There may be height restrictions and rules for certain types of fences. Know your HOA's policies – which are often stricter – as well.
Get inspired: Start looking at fences when you're out and about. You will notice fences you like and fences you don't – and you'll get the creative juices flowing.
At J&W Lumber, we're here to help. Contact us or stop into one of our showrooms and we'll help you find the right materials and plan for your fence.