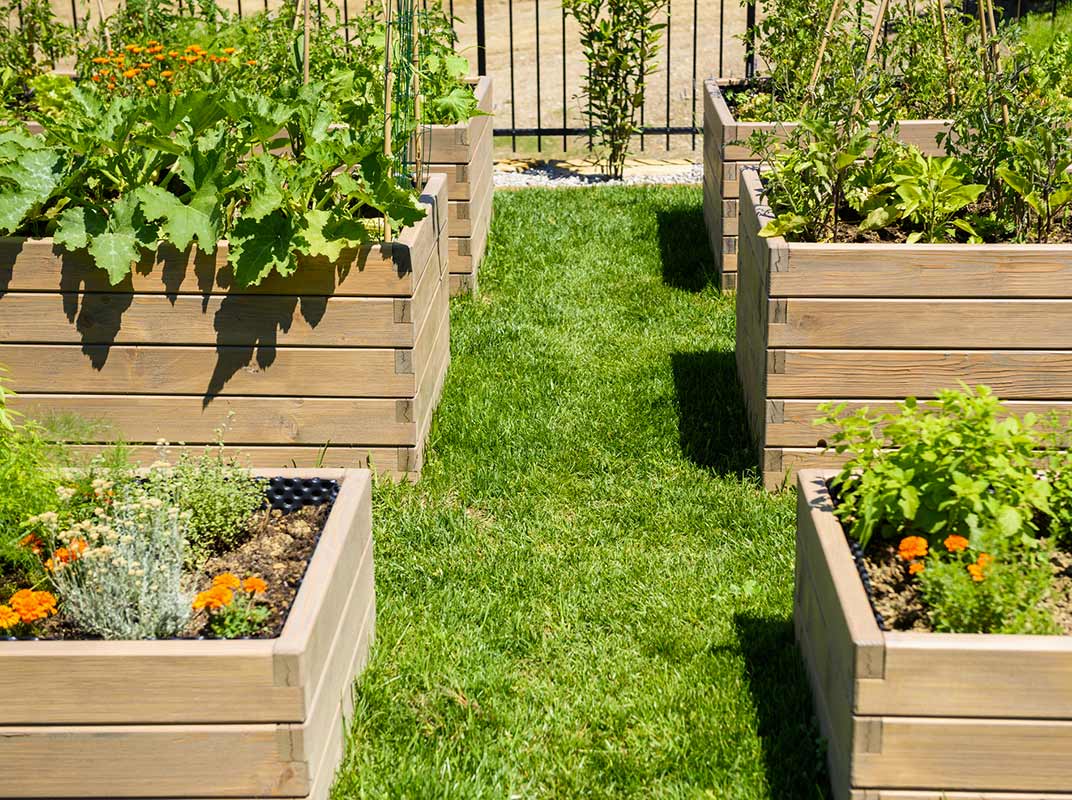 Outdoor building projects are a fantastic way to participate in a family activity that achieves a tangible result. Just because you're not an expert in design or engineering doesn't mean that you and your little helpers can't construct a sturdy, attractive garden box that you're proud to show off. A pre-cut, raised garden bed is the ideal weekend project for DIYers at every level.
Choose the size and location for your box
Pre-cut garden box kits come in multiple sizes that fit most outdoor locations. All our GroGreen Garden Box kits are 12 inches tall and are available in a range of sizes. The biggest footprint is a 4'x8' bed that is great as a centerpiece in a backyard or for areas with a lot of open space. We also feature much smaller kits—as compact as a 1' x 1' square—which are perfect for tighter spaces like side yards or apartment patios. By adding a leg kit (not included), you'll elevate the box to about waist-high, which will protect your plantings from critters and make your garden easier to tend to.
Off the grid, self-sufficient & green: garden boxes.
All your basic materials, all at your fingertips
A raised garden box kit comes with a fully detailed set of simple assembly instructions and the materials you'll need to complete your project. All pieces of redwood lumber are pre-cut to size and pre-drilled with guide holes, so all you'll need is a screw-driver. Your kit will also include stainless-steel hardware, so you won't waste time searching for the right wood screws and fasteners. Talk to the experts at your lumber store about buying the right-sized visqueen liner to help with drainage.
Decide what you'll grow
In addition to constructing the box itself, part of the fun is choosing what foliage you'd like to include in your newly built space. Beyond a standard herb or veggie garden, consider planting colorful annuals, water-conscious native plants, or an interesting cactus or succulent garden. As a family, learn about soil types, sunlight needs, fertilizer options, drainage, and watering guidelines for the plants your bed will contain. Picking out seeds and soil and planning your garden bed layout teaches kids about planting and budgeting, while garden maintenance helps kids learn responsibility.
Dress it up
The lumber in your kit is high quality California redwood, which stands up to moisture and sun and looks great while doing it. However, you can also personalize your project. Here are a few of our favorite ideas:
Paint the outside of the garden bed to match the walls and trim color of your home
Use tempra paint to stamp your family's handprints on the inside or outside of the box
Use a wood burning tool to inscribe a memorable quote or each family member's name
Dramatically change the look of the wood using an attractive colored stain
Paste copies of family photos or images on the outside walls of the box and seal them on with a thick coat of varnish
Building a raised garden box in your own backyard is an opportunity to teach your children about design, construction, nature, and the satisfaction that comes with completing a project. Skip the complicated planning process and pick up a kit that fits your space. If you time your project correctly on a weekend, you can buy it, build it, and plant your garden—all before the kids head back to school Monday morning.
Thinking of installing your own garden box? Bring your family (or come on your own) to your local J&W Lumber and we'll help you find everything you need to get started.