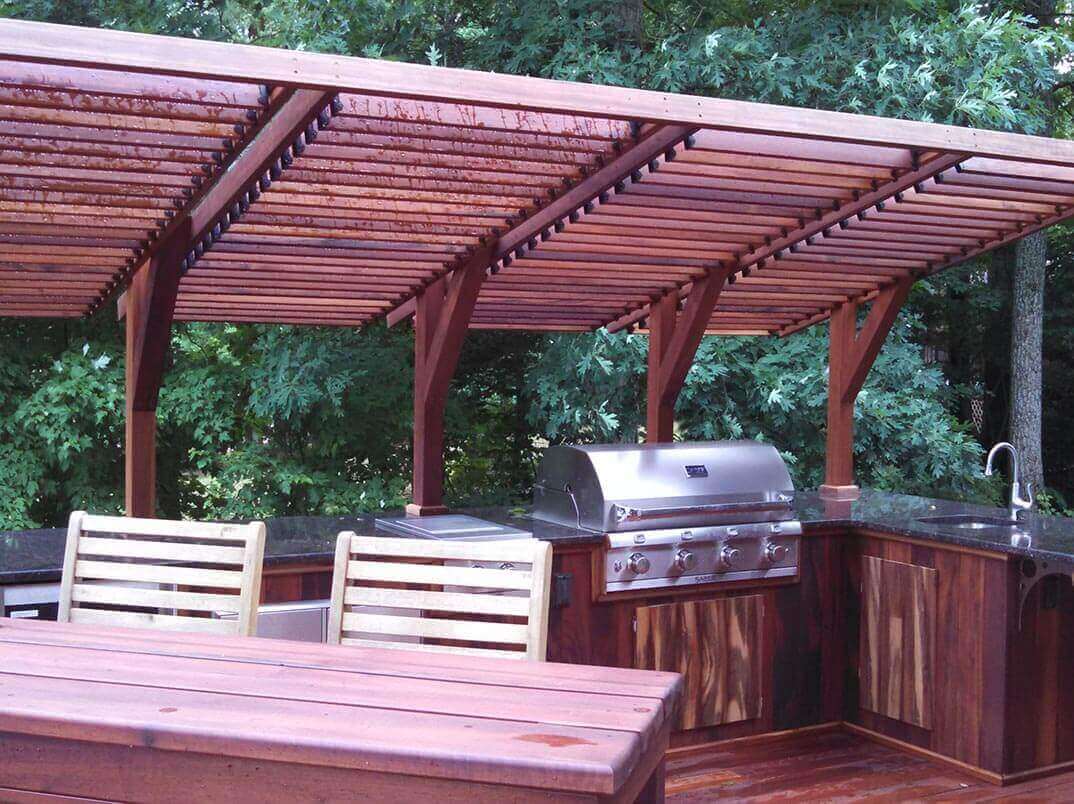 They say good fences make good neighbors. But a well-designed fence does more than offer privacy – it can give your home a stylistic touch that will make those good neighbors feel a bit of fence envy. There's more than one way to build a fence – or a gate, patio cover or partition for that matter. With a bevy of new materials and styles available for fences and other outdoor structures like lattices, patio covers and gates, homeowners now have far more options than the traditional white picket or vertical board fence.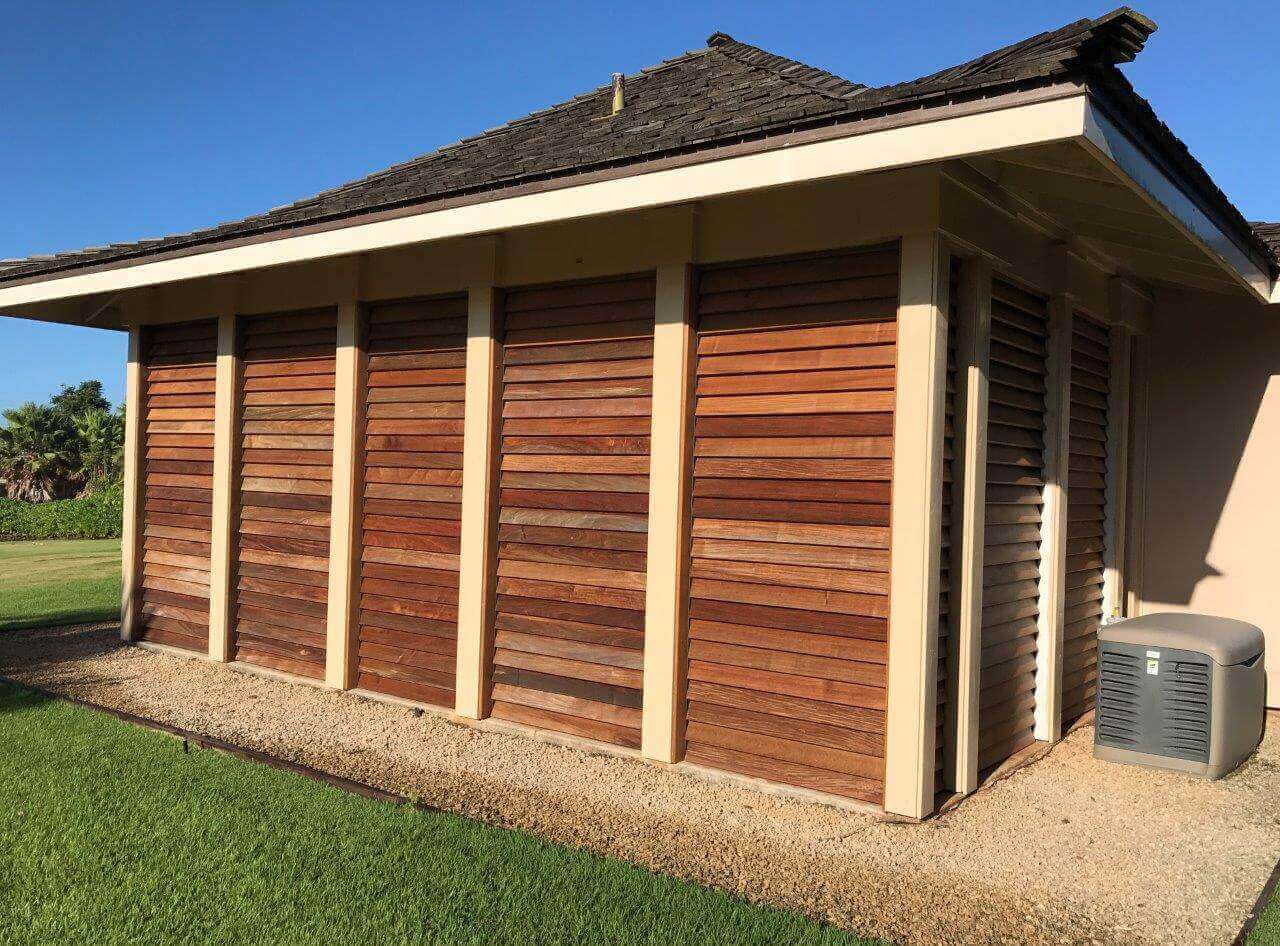 One of the most unique fencing systems on the market today is called "FLEX-Fence," a louver hardware system. This versatile system allows you to fix wood shutters either horizontally or vertically, opening up a wide variety of design and functionality options. Though the FLEX-Fence system has been around for some time, it's currently enjoying a spike in popularity due to its adaptability and versatility, and an increase in DIY homeowners looking for something different to add privacy, airflow, and originality to their projects.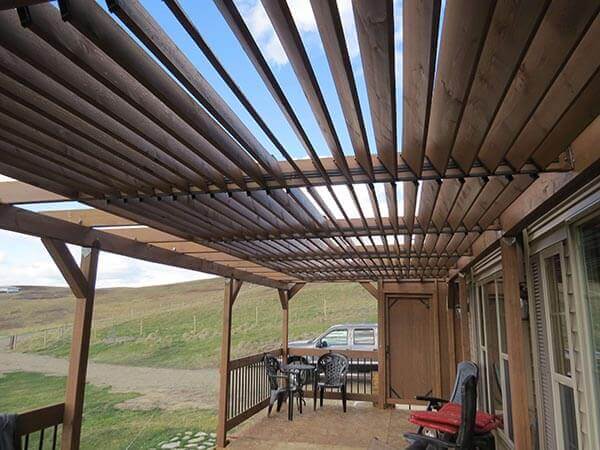 What Is the FLEX-Fence? 
The FLEX-Fence is a fencing louver bracket system that comes in a standard 4-foot fence kit or can be made custom to a length of 8 feet. The FLEX-Fence bracket system is sturdy and long-lasting, and incredibly simple to install and operate. The system is built to house standard 1×6 lumber boards, which our lumber stores offer pre-cut in a variety of wood types, including Redwood and Alaskan Yellow Cedar – lighter softwoods that work perfectly with louver systems.
How It Works
The Louver System: Aesthetic Appeal Meets Functionality
A louver system works exactly like the blinds or shutters on the windows of your home. They can be constructed either vertically or horizontally – and with the FLEX-Fence system, a combination of both. Louver fencing systems offer style, privacy and light regulation in a simple system.The emergence of horizontal fencing as a sought-after style has propelled the louver system into the limelight for those homeowners who want to take the modern fence style a step further. And louver systems work great for more than just fences. Lattices, patio covers, shade structures, and gates There are various outdoor applications that are both functional and aesthetically pleasing: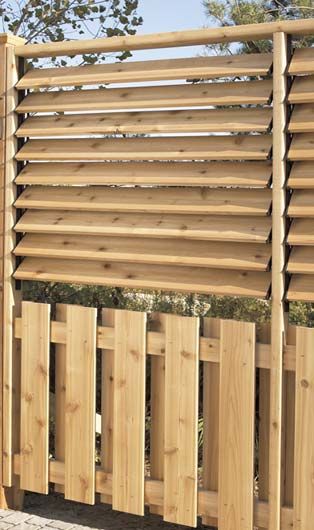 Shade: Louver systems look great, but they can also regulate sunlight and shade in various outdoor structures, including patio covers, gates, and lattices. With FLEX-Fencing, you can achieve the desired amount of sun and shade. You can even adjust the blinds to catch or block light during different times of the year.
Privacy: The FLEX-Fence system is perfect for achieving privacy while maintaining airflow and sunlight. Many homeowners are using louver systems to create privacy walls around pools, hot tubs, and outdoor showers. This unique style allows you to create truly private spaces that maintain a feeling of openness and flow. And if you want more privacy from your fence, it's as simple as shutting the blinds on your windows.
Versatility: The FLEX-Fence louver system is perfect for any homeowner who wants a modern horizontal fence, or a new twist on the vertical fence. And despite its name, the FLEX-Fence system can be used in a variety of outdoor structures, from pergolas to patio covers to gates and beyond.  The FLEX-Fence system allows homeowners to get creative with outdoor designs, combining horizontal panels with vertical ones. The system enables you to choose your wood type and stain it to match your desired look. While any type of wood can be used in the FLEX-Fence system, softwoods like Cedar, Redwood and even Douglas Fir tend to work better, as they are light and put less strain on the structure than more expensive hardwoods do.
The FLEX-Fence, though not a new technology, is making waves in the home design community. If you're looking for a modern look with a simple set-up for your fence or any other outdoor structure, check out FLEX-Fence.
If you want to learn more, call us or stop by one of our lumber stores today!