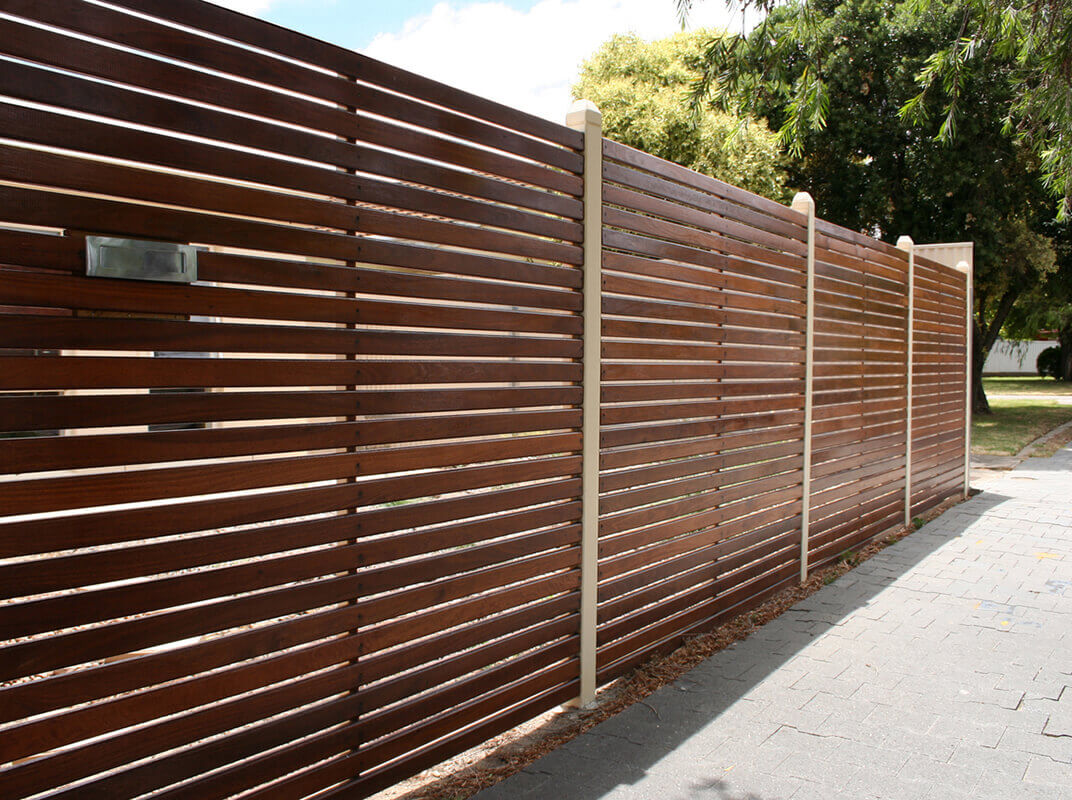 A traditional fence will never truly go "out of style." The classic white picket fence – once a staple for every home – might not be as popular as in days past, but still enjoys its place in Americana – think of the classic beach cottages of New England or a traditional home in the Midwest. The white picket fence is simple, functional and timeless.
Today, however, there are numerous options for building fences that differ in style, functionality, and material. Whether your fence is an extension of your existing home design or constructed with functionality as the focus, there are some great design options to give it a "modern" look and feel that will make it stand out from your neighbors'.
Here are 5 tips to modernize your fence design.
Go Horizontal
Give the traditional wood fence a modern twist with horizontal slats that cover the posts. You can leave a wide space between slats for extra visibility and air flow, or position them close together for full privacy. Wide wooden slats give a smooth and modern look, and you can stain them to match the color of other wood structures in and around your home. You can even stain different slats in different shades to create a custom pattern. Wood slat fences give you the ability to choose the type of wood look you want, from earthy Redwood and Cedar to more high-end options.
Invest in Luxury
Building a slatted wood fence with hardwoods – like Mangaris and Brazilian Ipe – will put your fence at the top of the proverbial neighborhood pecking order. These gorgeous hardwoods require a more substantial investment, but they are undoubtedly the most impressive of all fence materials. Hardwoods last for decades. Like Teak wood, Mangaris and Ipe will retain their structure, and turn gray in color over time. Construction of a hardwood fence requires a sounder structural base, as the wood is much heavier than softwoods, like Redwood and Cedar.
Hiring a contractor to ensure construction goes smoothly is recommended for high-end hardwood fences.
Combine Materials
Wood isn't the only material for building fences. Technology (and taste) have helped elevate materials like vinyl, composite, and aluminum for fencing. These materials are similar in price to wood – and sometimes even more affordable. There are many benefits to using these materials, including ease of installation and minimal maintenance required for upkeep.
Aluminum, vinyl and composite materials are also versatile for fencing. Try combining vinyl and aluminum, or composite and aluminum, or wood and composite, etc. together for an entirely unique look. Make sure you research the fencing materials before you get to work to ensure all the pieces fit together correctly – and don't hesitate to stop by a J&W Lumber warehouse to talk to one of our fencing specialists.
Don't Ignore the Gates
Fence design can be somewhat structured. There are certain components you must have (posts, rails, etc.) for both structural integrity and to comply with municipal codes. However, the tips mentioned here will help you design a fence that stands out. Another item that can put a unique touch on your fence is the fence gate.
J&W Lumber offers a variety of different gates – including customizable and pre-designed gates from Sederra. When designing or choosing your gate style, don't look past the hardware. Whether you want something modern and sleek – like stainless steel hardware – or something more classic that features ornate hammered metal hinges and handles, hardware is a great way to put your personal touch on your fence.
Check Frontier Style
People have been building fences for hundreds of years to delineate property, keep animals and keep neighbors in or out. Before the days of wholesale lumber yards, new-age materials and advanced home design, fences were often made from what was available – and functionality was the focus. This doesn't mean these fences are outdated for today's homes. In design, what's old is new.
The classic "frontier fence" – or split-rail fence – remains popular for ranches, but can be used on any home for a unique approach to property borders. Constructed using rough and raw lumber like Western Red Cedar, the split-rail fence offers nearly unobstructed views of the land beyond your property. While it may not keep your dog from escaping, a split-rail fence can make your home stand out from your neighbors – especially if you live in a community where they are not common.
Looking for more tips to create unique fencing designs? Stop by a J&W Lumber showroom today and talk to one of our fencing specialists.