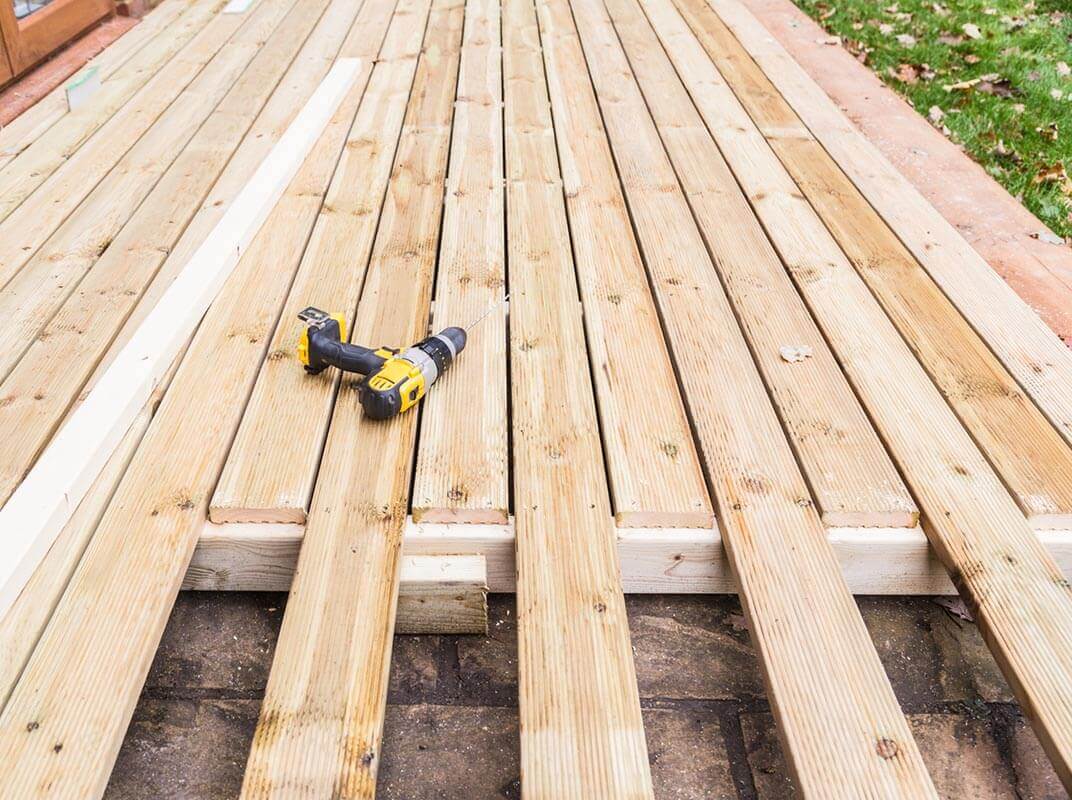 A well-designed deck is a great addition to any home. It's where you entertain guests, bask in the afternoon sun while reading a book, and watch your kids play. For those of us who live in sunny Southern California, a deck is a year-round space – and an absolute must-have.
A quality deck can last for decades and provide a lifetime of memories. That's why it's important to get it right the first time. When creating your deck design, there are a number of variables to consider.
Look into Your Crystal Ball
Walk into your yard, close your eyes and imagine what your future deck design will look like. Just for a moment, don't think about the obstacles, materials or time you'll need to complete your deck. Just dream up the best possible deck you can imagine, and work backward from there. What do you see? A group of friends enjoying a cocktail? Yourself on a lounge chair taking a nap? The pitter-patter of muddy feet? Perhaps you envision a Sunday BBQ with friends, cheering for your favorite football team. Maybe your vision includes a quiet dinner on a tastefully lit deck. Only you know what your dream deck looks like. Focus on your vision, and write down your goals for your deck.
Map It Out
Far too often, homeowners make decisions about where to put their deck in haste. Whether you are adding new decking to your home or replacing one you inherited, deciding where you will build your deck is one of the most important decisions in the process. Consider the following factors before deciding where to build your deck.
Sun/Shade: What part of your yard gets the most sun and shade? More importantly, how much sun and shade do you want your deck to receive? Sun and shade can be a delicate balance. While spending an afternoon basking in the Southern California sunshine may sound delightful, too much afternoon sun can make your deck feel like a toaster oven and render it unusable without an umbrella. Likewise, a deck that gets no sun can feel awfully chilly – especially in the winter months.
Useable Space: One of the biggest mistakes homeowners make with decking is the failure to increase or enhance useable space. Often, a deck will be built over yard space that could be used better as garden, shed or simply yard space.
Take stock of your yard. Are there sections that are currently unusable – like a graded slope or rocky portion? Building your deck above unusable space will increase your home's living area with functional space – a premium in Southern California.
Optimal Space: Usable space isn't the only consideration for deck design. You must also determine the optimal space for your deck. Variables like sun/shade and usability will factor into the equation, as will the desired amount of privacy and/or visibility. But you must decide where your deck will best be utilized.
Most decks are attached to the front or back of a home, but that's not a hard and fast rule. Building a deck around your pool, for instance, can create a resort atmosphere in the comfort of your own back yard. A deck that covers a dry, dusty portion of your yard can help beautify your property – and keep dirt out of your house. Make sure you have a good idea of the type of use you expect from your deck before you decide where to build it.
Deck Space: Once you've determined the best spot for your deck, determine the size of the actual deck itself. The area of your future deck will help ballpark the final size, but you must also consider the items you plan to have on the deck – a BBQ grill, a table, an umbrella, a hot tub, etc. – before making your final plans. Draw a map to scale, then draw the approximate size of each of the items you plan to have on the deck. This will give you an idea of what will realistically fit. More often than not, homeowners underestimate how much space is needed for each item. A single lounge chair can take up a lot more space than you think.
Consider Building Codes
Buildings codes vary from municipality to municipality, but a good rule of thumb is the "30-inch rule." Generally, if your deck is more than 30" off of the ground, you will be required to install railings and may need permits. If you plan to build a deck less than 30" off of the ground, it will most likely be considered a "porch" and will not require railings. Most municipalities require decks to be built a certain amount of space from your property line as well.
Choose Your Weapon
You've locked down a deck design and location, now it's time to choose your materials. Lumber stores, including J&W Lumber, have a wide selection of decking options in both natural wood and composite wood. Natural wood decking options include classic California Redwood and Western Red Cedar, as well as durable hardwood options like Mangaris and Brazilian Ipe. If you're looking for longer-lasting and virtually maintenance-free decking, composite decking options like Trex, Fiberon, Timbertech, Azek and Resysta are great choices.
We're Here to Help
Building the perfect deck requires time, planning and the right knowledge. At J&W Lumber, we help customers design the best deck for their individual needs and situation.
If you need help building your dream deck, contact us or drop into one of our showrooms. Let's get building!