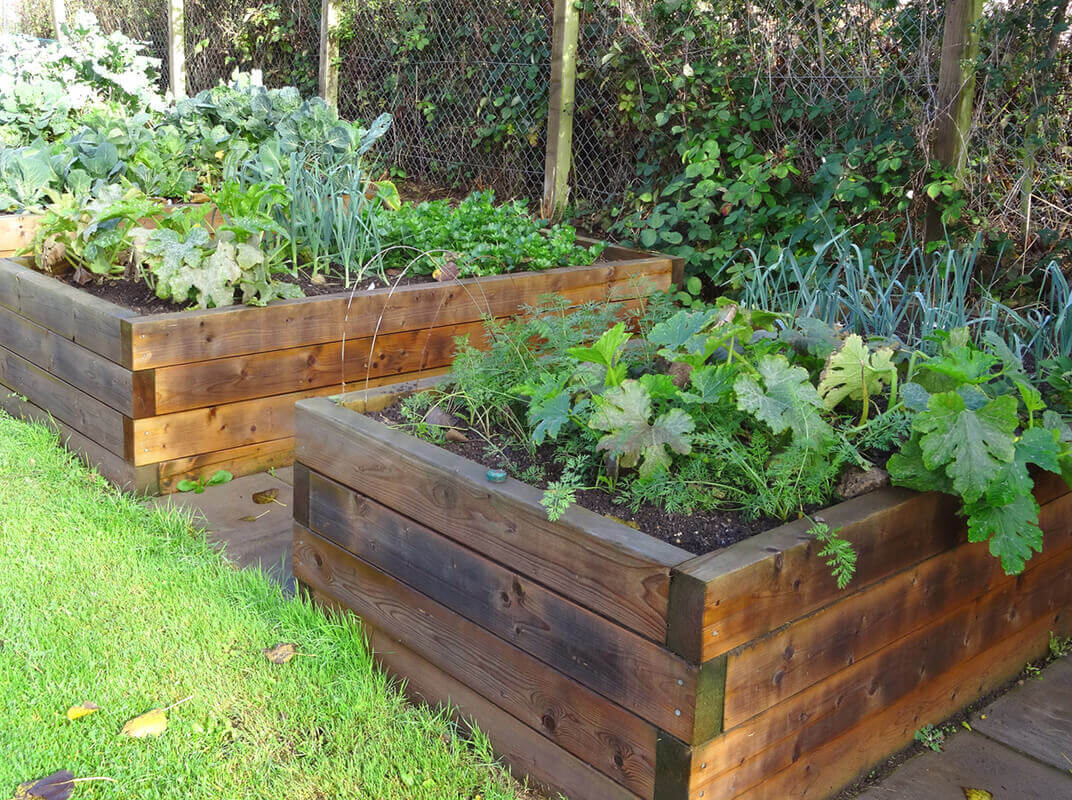 If you're thinking of adding to or changing the landscape in your yard or garden, you probably already have a vision of how you'd like it to look and what outdoor building materials you will use. There's no "perfect" way to build landscaping features – the perfect outcome depends largely on personal preference and the project itself.
The first thing to consider (after design of course) is what materials to use. One of the biggest choices homeowners face is whether or not to use railroad ties or landscape timbers for their outdoor projects. Both have advantages and disadvantages, depending on the situation. Let's take a look at each.
Railroad Ties
The Pros
Railroad ties are, in a word, iconic. They have a uniquely American ruggedness, conjuring up visions of freight trains barreling across the landscape. They're also great outdoor building materials because of their natural resilience and size.
Railroad ties are sturdy, nearly impervious to rot and insects, and rarely need to be replaced. Railroad ties are made from all different types of wood, including oak and various other hardwoods, to handle the pressure of 100-ton rail cars riding over them daily. Although you may not know exactly what type of wood you are getting in every tie, you can be sure it will hold up under pressure.
If you need something sturdy and long-lasting – like a retaining wall or garden steps – railroad ties may be right for you. They do, however, come with some drawbacks that preclude them from being the right choice for every project.
The Cons
Railroad ties can be very difficult to work with – that's why you rarely see small cuts of railroad ties used in outdoor projects. You're best off using railroad ties "as is" – as standard 6-foot and 8-foot timbers. If you're building something complex, railroad ties might not be for you.
Railroad ties are treated with creosote oil – a strong preservative made from coal and wood tar – that can make them poisonous to vegetables and a poor choice for projects where bare feet or hands might come into contact with them. If you're building a raised garden box, or plan on having your project anywhere near an edible garden, do not use railroad ties. Chemicals from railroad ties can also leak into children's play areas, so if you're building a sandbox or other play area, it's best to use natural wood instead.
Best Railroad Ties Projects
Decorative flower boxes (not vegetable gardens)
Retaining walls
Area dividers
Garden Steps
Landscape Timber
The Pros
Versatility is the calling card of landscape timber. It's sturdy, simple to work with, and easy on the eyes. From Pecky Cedar to California Redwood, there are a variety of landscape timbers to choose from, making it easy for you to match your materials to your vision.
Landscape timbers are a flexible and environmentally friendly alternative to rail road ties. They come in all different sizes and can be cut to your exact specifications. They are a natural product making them easy to work with and giving you the opportunity to make unique cuts for added effect. If you're building something that requires uncommon angles and shapes landscape timbers are a great choice. Most landscape timbers are not structurally rated, so they are best suited for more decorative projects.
Landscape timbers are naturally rot and insect resistant – which comes in handy for outdoor projects exposed to the elements. They are a great non-toxic alternative to railroad ties, so you don't have to worry about chemicals seeping into your vegetable garden or your kids' playground.
The Cons
Not all landscape timbers are created equal. Technically, any type of wood can be used for landscape projects, so choose your wood wisely. Pecky Cedar and Alaskan Yellow Cedar are great for outdoor projects, as they are rot and insect resistant. Woods like Douglas Fir, however, will rot quickly once they are exposed to soil and water.
Redwood and Cedar are unrivaled in beauty and usability, but costs can add up quickly. That's because Redwood and Cedar are structurally rated and can be used in building everything from patio covers to decking and beyond. While they can be used as landscape timber as well, they are overkill for the cost-conscious. A better choice would be Pecky Cedar and Alaskan Yellow Cedar. You'll get the same gorgeous look, without the high cost.
While many landscape timbers are resistant to rot, they are not as resistant as pressure-treated lumber or railroad ties. If you are looking for a permanent structure that will last forever, treated wood is your best bet.
Best Landscape Timber Projects
Sandbox/children's playground
Borders
Trellis
Benches
Thinking about sprucing up your outdoor space with railroad ties or landscape timber? Contact us or stop into one of our showrooms today, and we'll help you choose the right materials for your project.