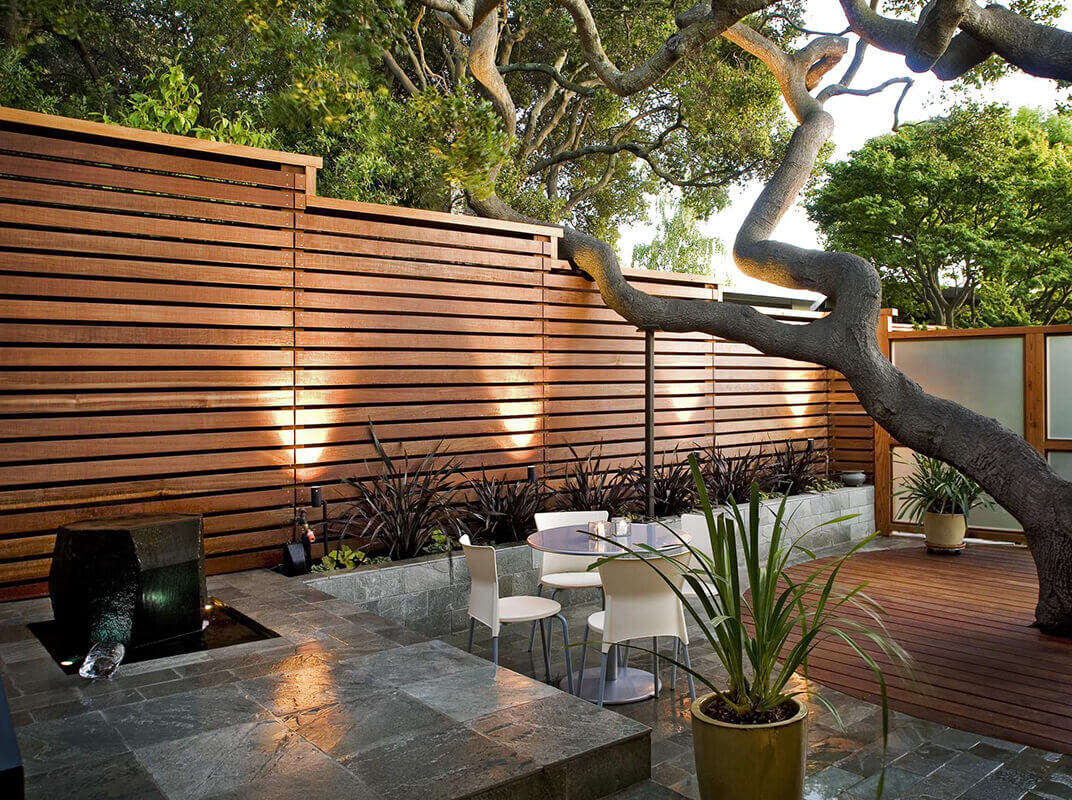 Horizontal fences have been around forever (ex. prairie fences) but have recently surged in popularity. With a smart layout and thoughtful materials, a horizontal fence can turn a ho-hum yard into an outdoor show-stopper. Sometimes called "good neighbor fences" because they look good from both sides of the fence, the uninterrupted lines of a horizontal fence draw the eye into the distance, instantly making outdoor areas appear more spacious. In short, horizontal fences are a great way to elevate the look of your yard.
If you're considering installing a horizontal fence, here's what you should know before you get started.
The cut sets the scene
The material you choose for your fence goes a long way toward dictating its style and the finished look.
Your options are divided into two general categories: rough lumber and smooth lumber.
Rough lumber – As the name suggests, rough lumber is coarse, unfinished wood that can give your fence a sturdy, rustic look. It's gritty, rough, and might have saw marks still engraved in the board. Rough sawn lumber is usually fairly thick, ranging from ¾ of an inch to a full inch. Thick planks like this create a strong fence, but the fence itself will be heavy. If you opt for rough lumber, make sure your framing is secure enough to support it.
Surface/smooth lumber – Smooth lumber planks are thinner, more "perfect" planks that have been sanded to a silkier texture. Surface lumber is usually only about a ½ inch thick, so it's a lighter, more finished-looking material for your fence. Often the edges of smooth lumber are beveled slightly, giving each plank a delicate look.
Choose the right wood
Since many kinds of wood work well for horizontal fencing, it will be up to you to decide what's best for you, based on price and look. Hardwoods like Ipe and Mangaris are gorgeous when applied horizontally because the natural grain that runs the length of the planks creates a high-end look. Softwoods like pine, Douglas fir, redwood, and cedar are also great fencing choices. Though they don't hold up as long as the hardwoods, they're substantially less expensive. Another cost-effective, durable option is to use vinyl fencing, which is particularly popular in ranch rail designs.
Avoid pressure-treated wood, which is intended for understructure and won't look good. Never use composite decking either, as it's too heavy for fencing.
Read More: 2020 trends and inspiration tips for anyone looking to update their horizontal fence.
A design for everyone
Horizontal fencing is incredibly versatile, with designs that are limited only by your imagination.
Here are a few fencing design suggestions to get you thinking about the type of horizontal fence that would look best with your yard:
Stagger plank seams to create a "brick-like" alignment
Alternatively, align your seams for a crisp, modern look
Use planks of varying width (ex.2-inch, 4-inch, 6-inch) to create visual interest
Use exposed dark metal posts for a rustic-modern look
Add 1/2 inch of distance between planks for an "open" look that permits a breeze
Or, choose tongue-and-groove planking for maximum privacy with no gaps
There are also lots of easy-to-customize horizontal fencing options that look great and feature straightforward installation. For example, FLEX-Fence louver systems can be adjusted to permit varying amounts of light and breeze throughout the day. You purchase the wood and stain that matches your aesthetic and use the FLEX-Fence hardware kit to assemble your fence. This option is perfect for gate doors and sections of the fence where you want to be able to control visibility.
One of the greatest advantages of horizontal fencing is the amount of variation available to match your own aesthetic and budget. Bring inspiration photos and measurements to the lumber yard and talk with the team about the materials and time required to turn your vision into a reality. From traditional to ultra-modern, there's a horizontal fence option that can match every price point and make every yard look like a million bucks.
If you're thinking of installing a horizontal fence, you don't have to go it alone. We're here to help. Visit your nearest

J&W Lumber location

to talk options.